Rodney Smith Recognized as March Employee of the Month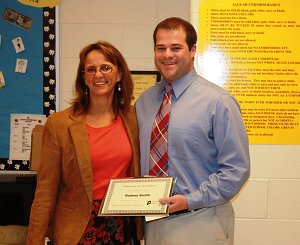 At Farmville Central High School, Rodney Smith is described by many as being an outstanding teacher, a team player and one that is dedicated not only to the students in his science classes, but to the athletes he coaches, as well as the school as a whole. With eight nominations submitted on his behalf, Mr. Smith can also now be described as the March Employee of the Month for Pitt County Schools.
One nomination stated, "He works hard to give students encouragement and success. He always has a positive attitude and seeks to make beneficial changes at our school." This year, those changes include Mr. Smith aiding the school in implementing a new "pilot exam schedule" to address the high number of student failures during the first and second six weeks. Outside of the classroom, Mr. Smith serves as Science Club advisor and has served as the junior varsity baseball coach and assistant cross country coach. Another nomination stated, "Mr. Smith models the behavior of a lifelong learner and encourages and promotes his colleagues to do the same."
Farmville Central Principal Christopher Moxley stated, "In his classroom, Mr. Smith is dynamic and innovative. He uses technology frequently and well, but even without it, he engages students and makes them want to learn. He also builds a relationship with his students that transcends the classroom and makes them want to excel for him. As evidence of his effectiveness, he is rated by EVASS as our greatest 'value-added' teacher."
Smith received a $50 gift card from The Fresh Market, which has partnered with PCS to support the employee recognition program. In addition, Smith received a free meal coupon from The Texas Roadhouse and a certificate of recognition from Pitt County Schools.
Congratulations Rodney Smith on this distinct honor and thank you for all you do for your school and community!
Know an outstanding employee like Rodney who demonstrates excellence in his or her job? Nominate him or her to be the next PCS Employee of the Month here!