Patrick Searcy Recognized as February Employee of the Month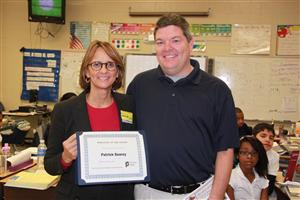 Pitt County Schools works hard to employ the best teachers possible for its students. It looks for teachers that go above and beyond the call of duty, and push their students and fellow staff members to be the best they can be. Falkland Elementary School has a teacher - Patrick Searcy - that meets these requirements and that is why he has been named Pitt County Schools' Employee of the Month for January.
Searcy has been a part of the Falkland family for 17 years. Beyond teaching fifth grade, he is grade level chair, SIT chair and a mentor. He is often described as a data driven teacher. This helps push his students as well as other teachers to compete with one another. A nomination letter for Searcy said, "I looked up to him as a leader of our school, and did my best to emulate the direction he took with instruction, and with the relationships he had with our fellow colleagues."
Searcy is also known for his dedication to his students and fellow staff members at Falkland. He is known for being the first person to volunteer help. "Patrick is so approachable and willing to help anyone, at anytime. He sets an excellent example for his peers, and is a fantastic role model for the students he teaches," said a nomination letter for Searcy.
Falkland Principal Shammah Barrett said, "Searcy is so giving. Everyone here is his family. There is not a teacher in the building that has not relied on him for something." Barrett also noted Searcy's strength as a team-player. "He is willing to help anyone in the building in any way he can, including administration, and he is committed to this school."
Searcy received a $50 gift card from The Fresh Market, which has partnered with PCS to support the employee recognition program. In addition, Searcy received a free meal coupon from The Texas Roadhouse and a certificate of recognition from Pitt County Schools.
Congratulations Patrick Searcy for your honor and thank you for all you do for your school and community!
Know an outstanding employee like Patrick who

demonstrates excellence in his or her job?

Nominate him or her to be the next PCS Employee of the Month
here
!