Christopher Howell Recognized as March Employee of the Month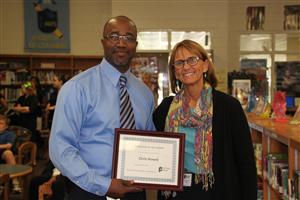 Finding a safe haven in school is something every student wants. It is a place to escape the stress of the classroom or social pressures and feel secure. This is the type of environment Media Center Coordinator at Ayden Middle School Christopher Howell has created and that is why he is Pitt County Schools' Employee of the Month for March.
Howell has been working hard at Ayden Middle since he first entered the building. He writes numerous grants, obtains resources and strives to make the Media Center the academic hub of the school. Howell provides professional development for staff and coordinates community events. He is also the chair of the School Improvement Team.
However, Howell's greatest strength is what he does for the students. He mentors students who are facing challenges personally and in school. A nomination letter for Howell described the Media Center "as a place where students feel safe, supported and able to meet any challenge before them."
Ayden Middle Principal Jeff Theus said, "Mr. Howell exemplifies teacher leadership by continuously providing support to teachers, students and the community. His ability to work with others makes him an educator of distinction; a caring teacher we all want as a friend and colleague. Fortunately, he's here at Ayden Middle School."
Howell received a $50 gift card from
The Fresh Market
, which has partnered with PCS to support the employee recognition program. In addition, Howell received a free meal coupon from The Texas Roadhouse and a certificate of recognition from Pitt County Schools.
Congratulations Christopher Howell for your honor and thank you for all you do for your school and community!
Know an outstanding employee like Christopher who demonstrates excellence in his or her job? Nominate him or her to be the next PCS Employee of the Month
here
!