David Dupree Recognized as May Employee of the Month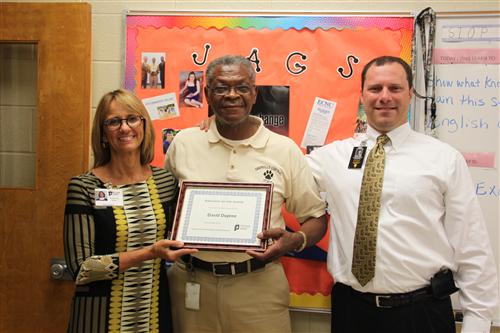 The career world can seem like a scary place for students. However, with the right guidance, it can be a place students enter with confidence. Farmville Central High School educator David Dupree works hard to help students prepare for the real world and that is why he is Pitt County Schools' Employee of the Month for May.
Dupree is a Job Coach at Farmville Central. He works continuously to help students make the most of themselves. Dupree trains and prepares students on getting a job, helping them with their resumes and teaching them how to dress. In some cases, Dupree has bought students appropriate clothing for an interview or has been seen giving up his belt to keep a student's pants from sagging. Dupree helps students get assigned to job sites for community hours and has often helped these students get employed after their hours have been completed.
On top of his daily duties, Dupree acts as a mentor for many students. Dupree is known to treat each child as his own, helping students become upstanding adults. A nomination letter for Dupree said, "Mr. Dupree has been like a father or grandfather to many of the students at Farmville Central. Many students call him Uncle Dave or Grandpa. He has many success stories to share." Another nomination letter stated that "he is a great role model to all our students."
Farmville Central Principal Brad Johnston said, "Mr. Dupree does an outstanding job with our Occupational Job Prep program, working closely with community partners for those students that have to work sites to complete their service learning hours. He is extremely dedicated and has a caring personal relationship with each student he works with."
Dupree received a $50 gift card from The Fresh Market, which has partnered with PCS to support the employee recognition program. In addition, Dupree received a free meal coupon from The Texas Roadhouse and a certificate of recognition from Pitt County Schools.
Congratulations David Dupree for your honor and thank you for all you do for your school and community!
Know an outstanding employee like David who demonstrates excellence in his or her job? Nominate him or her to be the next PCS Employee of the Month
here
!