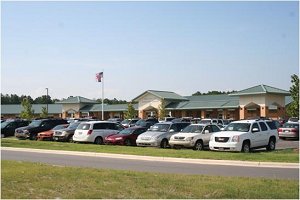 Ridgewood Elementary School
Ferdonia Stewart, Principal
Grades K-5 with 1,033 students enrolled.
---
School Highlights
School opened in August 2009.

Met High Growth in 2010 and Expected Growth in 2009.

Met 100% of Adequate Yearly Progress (AYP) Goals in 2010.
---
Programs/Activities
Ridgewood Elementary School is working in collaboration with East Carolina University (ECU) to be an Effective Leadership School, as the University is working to become an Effective Leadership University, training students in all curriculum areas in Steven Covey's The 7 Habits of Highly Effective People. At Ridgewood, teachers were trained first; then teachers developed lessons to train students as a part of their elementary curriculum, and then parents were invited in for sessions with teachers to learn what was being taught to students. Those 7 Habits include:
Habit 4: Think Win-Win Integrity – Stick with your true feelings, values, and commitments. Maturity – Be considerate of the feelings of others. Abundance Mentality – Believe there is plenty for everyone.
Habit 7: Sharpen the Saw. Allow yourself to grow by maintaining a balanced program in the four areas of your life: physical, social/emotional, mental, and spiritual.
Ridgewood School has the first ever "Walking School Bus!" In order to make provisions for students who wanted to walk to school and for parents who wanted to ensure their walking children were appropriately supervised, volunteer parents joined together to create a walking school bus. Volunteer parents walk with students and collect additional students and parents as they go. Three neighborhoods participate arriving at school from as far away as a mile.
Drum Circles are new at Ridgewood! Students are taught listening skills, participation and teamwork skills, and how to perform on cue as a part of the Drum Circles program. Students in a circle with different sized drums learn to play together for special school events. One of those events includes the Math Parade.
The Math Parade marches at Ridgewood every nine weeks celebrating students' success in math skills development. As all students at Ridgewood are sharks (school mascot), students in different grade levels are particular sharks and make costumes at the beginning of the year with their teachers preparing for the Math Parade.
Kindergarteners are Angel Sharks.

1st Graders are Hammerhead Sharks.

2nd Graders are Mako Sharks.

3rd Graders are Tiger Sharks.

4th Graders are Bull Sharks.

5th Graders are Great White Sharks.
---
Academic Support
---
Student Support
---
School Support