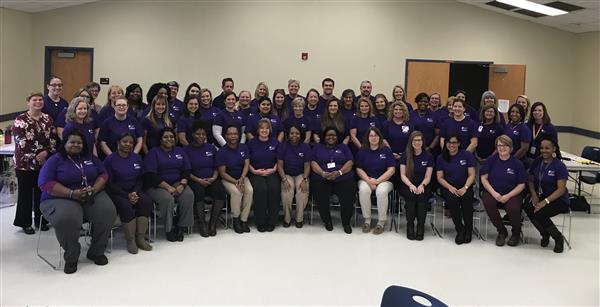 Exceptional Children's Department

The Exceptional Children's Department Program of services and staff commits to providing specially designed instruction with fidelity and evidenced based practices to students with disabilities with IEP's enrolled in Pitt County Schools in the least restrictive educational environment.

Exceptional Children's Opener 2018-19

Congratulations to our 2018-2019 School Duel Champs

JH Rose!!!

Check it out! Ayden Middle School STEM class builds beeping eggs for our visually impaired students to particpate in an egg hunt at Wintergreen Elementary school!
on

8/22/2018

Length:

It's All About That Data was inspired by the popular song "It's all about that Bass" by Meghan Trainor.

*Song used for educational purposes only.
Contact Us!
1717 West Fifth Street

Greenville, NC 27834

Phone: 252-830-4272

Fax: 252-830-4290
Exceptional Student Spotlight
Hunter Outland presented to a group of staff at a workshop regarding students with autism and behaviors sometimes associated with autism. He spoke about himself, the behaviors he had and how he has overcome them. Thanks, Hunter for sharing your story!
Announcements
2019 Incredible ECU Women Award Recipient

Please join us in congratulating Ms. Virginia Gaynor, Director of Exceptional Children, on receiving the 2019 Incredible ECU Women Award! The Women's Roundtable acknowledges the contributions of women to East Carolina University's legacy and encourages new levels of commitment by women to the university's future.

Attention: All confidential special education records of persons born in 1993 will be destroyed on or immediately after January 5, 2020. Click the link for more details.

The North Carolina Assistive Technology Program is hosting a one day AT Vendor Expo September 26th, 2019! It is free to attend but you must register!

The STEPP Program at ECU offers comprehensive academic, social and life skills support to students with specific learning disabilities in college.

Special Recognition's 2018-2019

We would like to recognize some of our educators on their accomplishments this year:

Passed the Praxis test:

Christine Galvadore - Pactolus

Completed Master's Degree:

Ashleigh Wilson-Miles - SCHS

Congratulations to Michele Mazey, PCS Adapted Physical Educator, on being presented with the Civitan Servant's Heart Award on April 15th, 2019 by the Winterville Civitan Club. This award is part of a global awareness project honoring those who work with individuals with disabilities. Thank you, Michele, for your work in the community!

TEACCH School Transition to Employment and PostSecondary Education (T-STEP)

T-STEP is a FREE intervention for individuals with Autism ages 16-21. Please see flyer below for more details and contact information.

Duke Child Studies Research Opportunity

If your child has severe vision or hearing loss, they may be eligible to participate in a research study at Duke. Please see flyer below for more information.

Please check out PCS Transition Services on Facebook!

This page is aimed at providing resources and information to help our students meet their postsecondary goals!
Last Modified on June 27, 2019