Return to Headlines
Teachers, Employees of the Year Honored at PCS Awards Banquet
Teachers, Employees of the Year Honored at PCS Awards Banquet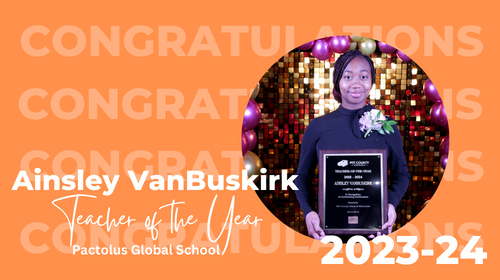 Ainsley VanBuskirk, who has served Pactolus Global School as an educator for the past three years, was named the 2023-24 Pitt County Schools Teacher of the Year during an awards banquet sponsored by the Pitt County Farm Bureau at Rock Springs Center on Wednesday.
VanBuskirk's selection highlighted an event that also recognized runner-up Stacy Knight of Elmhurst Elementary School, five additional finalists for the county's top teaching honor and five classified employees of the year.
In her ninth overall year within the PCS system, VanBuskirk currently teaches first grade in the K-8 school. She joined the Pactolus faculty in 2020 after serving in a similar role at Belvoir Elementary beginning in August of 2014 and starting her career as an exceptional children's teacher assistant at Chicod School eight months earlier.
She earned an associate's degree from Pitt Community College in 2011 before following with a bachelor's degree in elementary education from East Carolina University in 2013. VanBuskirk, who holds membership in the Pitt County Association of Educators, is National Board certified.
VanBuskirk immediately succeeds Matt Daniel of Sam D. Bundy Elementary School, who was chosen as the district's 2022-23 teacher of the year.
Knight, who also teaches first grade, was appointed to her current position in the fall of 2017 after spending the previous spring semester at Eastern Elementary in Beaufort County. She holds several leadership positions at Elmhurst, including chair of the Guiding Coalition, Kindness Club and Grade Level Committee, while also facilitating its Professional Learning Community (PLC).
An ECU graduate, she earned her bachelor's degree in elementary education and K12 reading certificate in 2005. Knight was also awarded credentials for Inclusive Classrooms and Think Like a Global Leader, while holding Clinical Teacher status from East Carolina and UNC Charlotte since 2018 and 2021, respectively.
Other finalists included Nicole Davis (Ridgewood Elementary School), Susie Glynn (G.R. Whitfield School), Grace Hale (Ayden-Grifton High School), Alessandra Nysether-Santos (J.H. Rose High School) and Jonathan Riggs (Farmville Central High School).
Another featured event during the banquet was recognizing five deserving individuals as Pitt County Schools Employees of the Year, which covers various classified staff positions. Winners honored were Debra Faison from Ridgewood Elementary School (office/clerical), George Grimes from D.H. Conley High School (teacher assistant), Mary Johnson from Ayden Middle School (school nutrition manager), Bobby Langley, Sr. from Hope Middle School (custodian) and Mary Newton from Wintergreen Primary School (school nutrition employee).