Return to Headlines
Pitt County Farmer Directs America's Farmers Grow Communities Donation to Pactolus Global School
Pitt County Farmer Directs America's Farmers Grow Communities Donation to Pactolus Global School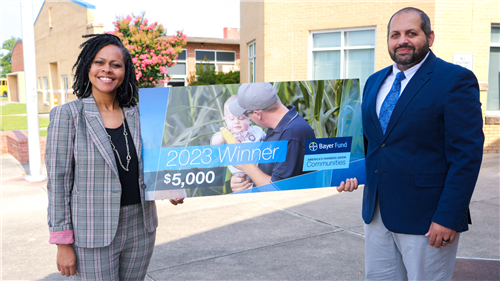 GREENVILLE, N.C. -- A Pitt County farmer who wishes to remain anonymous recently directed a $5,000 Bayer Fund America's Farmers Grow Communities donation to Pactolus Global School.

Pactolus will use the funds for the following:
• Field Trip to an Agricultural College (to expose our students to careers and campus life).
• Outdoor Social Emotional Classroom (to create a space where learning and STEM learning can take place in a non-traditional setting).
• Give Back Garden (to teach students how to plant, grow and cultivate food in order to give back to the community which aligns with our Global Competencies).
• Global STEM Girls Club (to create a space for young girls to learn about STEM and participate in STEM activities that also align with our Global Competencies).
• STEM Classroom Materials (to provide materials for STEM activities in professional development for teachers and for classroom activities with students).

"We are truly grateful to have been selected by a local farmer to receive the Grow Communities Donation," Pactolus Global School Principal Kim Lucas said. "As a rural school, there is always a need for more funds and more resources. It's heartwarming to know that there are still generous people and organizations around that when they see a need, they don't hesitate to put hand to plow for our children and our community.

"This grant is received with the warmest thanks and deepest appreciation for sowing into Pactolus Global School. We shall steward it well."
Since 2010, the America's Farmers programs have awarded nearly $65 million to nonprofits, aspiring agriculture students and public schools across rural America. Farmers are leaders in their communities, which is why America's Farmers programs rely on them to help identify the worthiest causes.

Dedicated to making a difference in rural farming communities, the Grow Communities program asks farmers across the country to participate by nominating nonprofit organizations with resources to strengthen their local communities. Last August, farmers entered for the chance to direct a $2,500 Grow Communities donation to a local eligible nonprofit of their choice. Farmers have directed donations to food banks, emergency response organizations, schools, youth agriculture programs and many others that reflect the spirit and support the vibrancy of rural America.
"Bayer Fund is proud to work side-by-side with farmers to identify local eligible nonprofit organizations that are able to provide their residents with solutions that leave a lasting impact," Bayer Fund President Al Mitchell said.

To learn more about how America's Farmers are making an impact, visit https://www.americasfarmers.com/www.AmericasFarmers.com.

About America's Farmers
America's Farmers, funded by Bayer Fund, is focused on strengthening rural America through two community outreach programs that partner with farmers to make an impact in communities where farmers live and work. The programs have given nearly $65 million to rural America since 2010.