Return to Headlines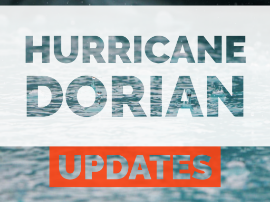 For hurricane updates, tips, and resources from the City of Greenville, click here: https://www.greenvillenc.gov/government/hurricane-dorian-updates
For hurricane updates, tips, and resources from the County of Pitt, click here: https://www.pittcountync.gov/DORIAN
Pitt County Schools Updates:
September 10, 2019
Pitt County Schools will now make up Friday, September 6, on October 11, 2019. October 11, formerly a system-designated workday, is now a full school day for all schools students and staff (including Early College sites). There will be no make-up day for students for time missed on Thursday, September 5, as PCS will utilize banked instructional time already built into the 2019-2020 school calendar.
September 7, 2019
Facility Services has been working with school based staff to clean up the school buildings and grounds. All large tree damage has been removed by the Grounds Department. The majority of the schools had minimal damage. Power, network, and server operation has been verified at all sites. At this time, there are not any known issues that will impact school operation on Monday.
Pitt County Schools will operate on a regular schedule on Monday, September 9, 2019.
September 4, 2019
Pitt County Schools will be closed for all students and staff on Thursday, September 5, 2019 and Friday, September 6, 2019, in anticipation of severe weather due to Hurricane Dorian. This announcement follows the latest briefings from state, regional and local weather and emergency management officials. A multi-agency community briefing on the storm will take place this afternoon at 2pm and will be livestreamed from the Pitt County Government's Facebook page or at this site: http://www.youtube.com/PittCountyNC.
Thank you, and please be safe during the storm.
September 3, 2019
PCS continues to monitor with officials, & our facilities staff is working to prepare school sites for the possibility of severe weather related to Hurricane Dorian. PCS will operate on a normal school schedule on Wednesday, 9/4. Updates posted on social media/web or #PCSDorian
September 2, 2019
PCS continuously with Emergency Management and our city/county/state officials to monitor severe weather. As the school year begins, it is a great time to discuss emergency childcare plans with family and caregivers in the event of unexpected sickness or weather closings/delays.