Creekside Elementary Teacher Named a Regional Finalist for NC Teacher of the Year
Congratulations to Erin Kessel, Teacher at Creekside and Pitt County Schools' Teacher of the Year, for being selected as a Regional Finalist for the North Carolina Teacher of the Year!! We are so proud of Mrs. Kessel for continuing to represent Creekside Elementary, Pitt County Schools and the entire teaching profession so well. Good luck in the next round, Mrs. Kessel. The entire district is pulling for you!
Below is Erin Kessel (left) pictures with NC State Superintendent of Schools June Atkinson.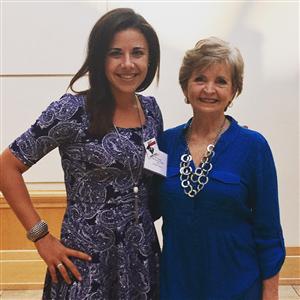 J.H. Rose High School Selected as One of WITN 7 and Bob 93.3's "Cool School"
J.H. Rose High School was nominated and selected as one of four schools in eastern North Carolina as a "Cool School" by WITN 7 and Bob 93.3. The sunrise morning show was live from the school on Friday, October 28 to showcase what makes J.H. Rose High such a cool school! Read more and watch videos of the morning show highlighting some of the great things happening at the school at the link below:
http://www.witn.com/content/news/Second-WITN-and-Bob-933-cool-school-JH-Rose-High-School-398870401.html
North of the River Community Share Event
In the wake of the flooding from Hurricane Matthew, all of the schools in the North Pitt attendance area worked together to sponsor a community share event on October 22, 2016. Donations were collected from staff and students at each of the schools as well as from other schools within the district. Multiple businesses and churches also donated to the event. Victims of the flooding were very grateful for the community coming together to support them during this difficult time. Thank you to everyone who helped contribute to the Community Share Event!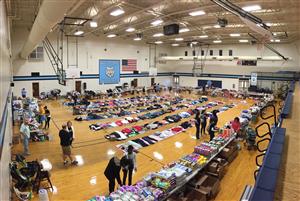 Pitt County College Fair Held
Pitt County Schools, the College Foundation of North Carolina (CFNC), and The Carolinas Association of Collegiate Registrars and Admissions Officers (CACRAO) partnered to conduct their annual Pitt County College Fair on November 1, 2016 at the Greenville Convention Center. Juniors and seniors from across PCS had the opportunity to attend and receive information from over 50 different colleges and universities from across the region. Many thanks to our School Counselors and School Social Workers who helped make this event a success!
Wahl-Coates Elementary Hosts Internationally Renowned Parson's Dance Company
On October 26th, Wahl-Coates Elementary was the site of a one-day dance residency conducted by the internationally renowned Parson's Dance Company of New York City. Students in grades 2 - 5 were immersed in the creative process of choreography and high energy dance facilitated by eight dancers from this professional touring company.
Second Graders Participate in Science/Music Arts Performance
On October 27th and 28th, Pitt County Schools 2nd grade students participated in the interaction and interdisciplinary science/music arts performance "Sound Adventure". Through the use of the pipe organ and multiple other instruments and mechanisms, music educators Buddy Hyatt, Beth Ullfers, Joy Carter and Sam Harris demonstrated how sound is produced, how frequency can be changed, how the human ear detects sound, and much, much more!
Community Unity Day Held at C.M. Eppes Middle
C.M. Eppes Middle School participated in Community Unity Day on Saturday, October 22nd. Staff members and football players worked together to help clean up a local neighborhood impacted by Hurricane Matthew. Thank you for your compassion and your support of our community, Bulldogs!
Eastern Elementary Teacher Accepted into Impact Ventures
One of Eastern Elementary's 4th grade teachers, Mrs. Ashlee Thomas, has been accepted to participate in the 2016-17 Impact Ventures program.
As such, the Department of Digital Learning has made it possible for her to obtain a grant for a class set of Chromebooks. This program will allow her to have a 1:1 technology model in her classroom. Student growth and engagement are sure to SOAR with this opportunity. Students will also become true digital citizens and enhance their 21st Century learning skills.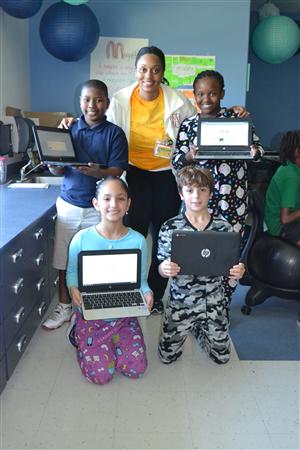 Stokes School Announces Eagle of the Month Awards
Stokes School celebrated their first group of students selected for the Eagle of the Month Award. Teachers selected students who modeled the 7 Habits of Highly Effective People during the month of September. Each student was recognized and presented with a treat during lunch.
Ayden Elementary Kicks Off WATCH D.O.G.S. Program
Ayden Elementary School had their kick off for a new innovative father involvement program called WATCH D.O.G.S. (Dads of Great Students) on Tuesday, October 25.
D.O.G.S. is the father involvement initiative of the National Center for Fathering. The program was inspired by one father's desire to increase male involvement in his children's school with the help of the school's teachers and administrators. Studies by the U.S. Department of Education have demonstrated adult male role models will have a uniquely positive impact on the development and educational success of a child. Ayden Elementary had 106 fathers, step dads, big brothers, and uncles attend the pizza kickoff night. Each father/father-figure signed up to volunteer at our school.
For more information on WATCH D.O.G.S., visit www.fathers.com/watchdog.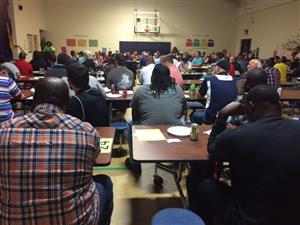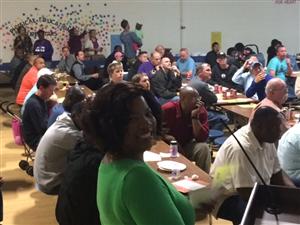 Chicod Girls Explore STEM Careers at ECU
The College of Arts & Sciences, College of Engineering & Technology,College of Education, and Grady White Boats provided an experience designed to expose Pitt County middle school girls to the fun side of science, technology, engineering, math and medicine. Mrs. Megan Hardee traveled to ECU with a group of 8th grade girls to participate in this event and explore STEM careers.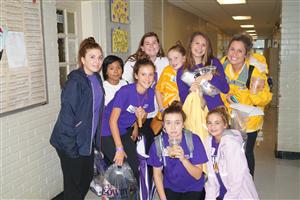 Grifton School Students Visit Humane Society, Write From Perspective of Animals Awaiting Adoption
Grifton School sixth graders in Ann Conner's ELA class recently completed a Point of View/Perspective project. Students were asked to visit the website for the Humane Society of Eastern North Carolina and choose a dog or cat that was available for adoption. Students then wrote a letter to a prospective family from the point of view of the animal. The challenge was not only to give the animal a "voice", using persuasive language to attract possible families, but creative narration was added as students imagined the back story of the animal and how he/she came to be at the shelter.
When the Humane Society was contacted about possibly using the letters at the shelter, the staff enthusiastically agreed to display the letters in their office and by the cages of any animals still waiting for adoption. L iz Miesnik, Executive Director, and Sistine Burgess, Shelter Director, decided they wanted to come visit the students and thank them in person. Of course, they brought along one of their new pups, Lincoln. He was very popular with the students!
Women for Women Grant Awarded to North Pitt High School
North Pitt High School has been selected to receive a grant from Women for Women Pitt County, a local non-profit organization that is committed to helping women and girls achieve their full potential by promoting health, physical, emotional and spiritual well-being; creating opportunities for economic, educational, social, artistic and personal growth; preventing violence against women; and encouraging women and girls to participate in their community.
The $4,305 grant will be used to fund a yearlong mentoring/advising program for girls named Leading & Achieving Distinction in Everyday Settings (L.A.D.I.E.S.). The grant was written by Dr. Hattie Hammonds, English Department Chair, in conjunction with School Counselor Demetrise Cobb and the Student Services department at the school. The goal of the program is to help 20-25 girls increase their grades and cope with personal or social issues that impede their success while decreasing absences and discipline referrals.
Participants in the group will meet during the school day for an hour every two weeks. During the meetings, each girl will receive instruction and advising from school counselors and invited guests on nine principles for successful teens, life and community: unity, etiquette, self-determination, teamwork, responsibility, economics/entrepreneurship, purpose, creativity and faith. During and after each meeting, participants will write reflections in an assigned journal and track their progress toward individual goals with program advisors and a personal mentor. Participants that successfully meet their individual goals will receive incentives throughout the school year including field trips and an overnight retreat in June 2017. Many thanks to Dr. Hammonds (pictured below) and Mrs. Cobb for their effort on behalf of their students at NPHS!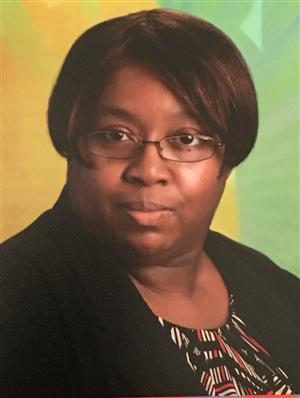 Reality Store Held for Wellcome Middle 8th Graders
Wellcome Middle School held a Reality Store for 8th grade students on October 27, 2016. The Reality Store is an interactive educational event designed for students to experience the reality of having a job, a family and having to pay monthly expenses (such as rent and utilities, childcare, groceries, student loans, clothing, car loan, etc.)
It is a valuable opportunity for students to learn how their education, life choices and finances are all interrelated and impact their future. The Reality Store is provided through the North Carolina State Employee's Credit Union with the help of School Social Workers, School Counselors, and community volunteers.
Chicod School Students Present Innovative Ideas
Chicod School's 7th and 8th grade art students presented their innovative product ideas in a "Shark Tank" format to "sharks" from the school and community on Friday, October 21st. Teacher Christopher Clark guided students through a 3-week unit on developing and promoting innovative ideas in areas the students found interesting. Mr. Clark said his experience this summer as a teacher participant in ECU's Advanced Manufacturing & Innovation Academy was his inspiration to combine the creative art content with a unit that promoted the development of "soft skills" employers are seeking in the work force. These are skills such as collaboration and team-work, clarity in communication, adaptability and flexibility, and personal accountability. "One of the things we discussed repeatedly during the AMIA workshop was the rapidly changing workplace and how to prepare students with the soft skills they need, regardless of the technical aspects of a job. Whether they work in the food industry or a science, technology, mathematics, engineering, or art field students will need these skills."
Mr. Clark reached out to the school and the community to find "Sharks" to participate. Sharks ranged from student's core teachers, to administrators and support staff, to Pitt County's Arts Coordinator, Jane-Austen Behan, and Science Coordinator, Fritz Robinette. Mr. Clark used a rubric to rate the project presentations and indicated their level of interest in providing "virtual" funding for the student's projects. Student Lauren Roupe said "I loved the project because we got to use all of our minds to make something very creative but useful too. We also got to experience the pressure that real Shark Tank contestants would have experienced. It was such a great experience, I'll never forget it!" Assistant Principal Leslie Hayes said, "This project was powerful because it gave students an opportunity to use their academic background to solve real world problems by creating solutions in a creative and fun way, while experiencing the steps involved in becoming a successful entrepreneur."
Photo caption: Pictured back row, left to right: Lisbeth Jacinto, Renee Woolard, Jennifer Atardi, Leslie Hayes, Alex Pittman, Jordan Perez, Kaleb Modlin, and Cassidie Moyer. Front row, left to right: Manuel Navarrete, Hector Montoya, Joshua McAllister, Lydia Overly, Dylan Davis.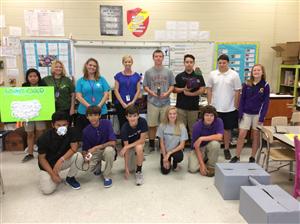 Photo caption: Pictured back row left to right: Lyla Street, Andres Ontiveros, Megan Garner, Katie Heath, Carlos Sanchez-Oranday, Daniel Williams, Eric Shadoan, Wesley Simpkins, Dariann Smith, Jennifer Islas-Perez, Hayley Jackson, Emily Powell, Frittz Robinette, Elizabeth Martin, Jane-Austen Behan, Pictured front row left to right: Garrette Parker, Landon White, Zykeon Keel, Trent Jackson, Dylan Soddy, and Olivia Brown.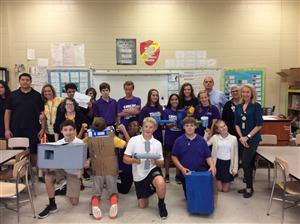 Photo caption: Mr. Clark's 7th Grade Art class presents their creative inventions to the "Sharks".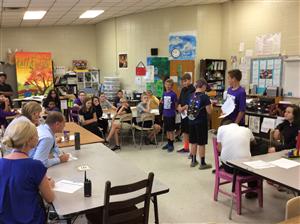 Ridgewood Elementary: Where Character Matters
Ridgewood Elementary School was recently featured on the NCDPI website Character Matters for the hard work of the staff – led by Principal Ferdonia Steward and School Counselor Olivia Salter – in promoting character throughout every aspect of the school. The feature was written by Justyn Knox, NCDPI K-12 Social Studies and Character Education Consultant, following her visit to the school this fall and can be found at:
http://charactermattersnc.com/ridgewood-sharks-show-character-matters/
Keep making us proud, Ridgewood!
Eastern Elementary Hold SGA Elections
Eastern Elementary held its Student Government Association election where representatives from 3rd, 4th and 5th grade classes competed for the offices of president, vice president, treasurer, and secretary. Each candidate campaigned with posters around school and a speech delivered to all 3-5 students. Students cast their votes and the winners were announced. The 2016-2017 Eastern Elementary SGA winners are (from left to right) President - Evan Raub, Vice President - Madison Neal, Treasurer - Saylor Whitley, and Secretary - Brooks Ann Bass. Congratulations to these new representatives and to all who campaigned!
North Pitt High School Hosts Senior Parent Event
North Pitt High School hosted parents of seniors, providing information on post-graduation plans including continuing education with Pitt Community College, accessing scholarships with East Carolina University and possible military careers with the United States Army. Students participated in various career and college activities to help provide them with options for future success!
Grifton School Holds Trunk or Treat Event
Grifton School hosted their first Trunk or Treat on October 27th with the help of the school's PTA. School families came out with students dressed up for some much-needed fun following the flooding from Hurricane Mathew. A big thank you to the Grifton Fire Department for providing lighting for the event. A good time was had by all!
Chicod School Relief Effort for Victims of Hurricane Matthew
On October 12th, Chicod School students, parents and faculty held a drive to collect much-needed items to help provide relief for victims of flooding from Hurricane Matthew. Thank you, Chicod, for your hard work on behalf of your fellow students and community members!
North Pitt High School SGA President, Students and Staff Lead Relief Efforts
North Pitt High School's SGA President, Senior Class President and many students and faculty have helped in a variety of ways to restore items lost from the effects of Hurricane Matthew. North Pitt High School partnered with the community efforts north of the river, sorting new and gently used donations for fellow students and families. North Pitt High School gives a heartfelt Panther thank you to all of the elementary, middle and high schools who joined in the effort.
Ridgewood Relief Drive Held in Wake of Hurricane Matthew
Ridgewood Elementary hosted a Hurricane Relief Drive on October 13th. Staff also went to visit some of the school's students who were impacted to check on their needs. Thank you for your compassion for your students, Ridgewood staff!
Pitt County Early College High School Students Learn about Media
The Early College High School yearbook staff were invited to attend the conference Learning about the Media provided by East Carolina University. Two of the school's students, Anaicia Moore and Jennifer House, were interviewed about their experience at the conference and represented themselves and the school immensely well! See the ECU promotional video with their interviews here:
https://www.youtube.com/watch?v=0FUjxgjaPC8
Bethel School Holds Fall Festival
Bethel School held its annual Fall Festival recently. Students and community members spent the evening earning candy at booths designed to engage and inspire. From math and technology, to engineering and design, the festival was a huge success and - most importantly - a ton of fun. Bethel School - where it's always a great day to be a BUC!
Farmville Middle Teacher Recognized as Bright Ideas Tar Heel Teacher of the Week
Pitt & Greene Electric Membership Corporation has recognized Farmville Middle School AIG teacher Jane Shrader as a "Bright Ideas Tar Heel Teacher of the Week". The program recognizes 26 of the most exceptional teachers from across the state during the 2016-2017 school year, and is sponsored by North Carolina's electric cooperatives in coordination with UNC Athletics. Mrs. Shrader and her bright ideas proposal will be recognized during the radio broadcast of the UNC Chapel Hill basketball game on Friday Nov. 11 and Sunday Nov. 13. Additionally, Mrs. Shrader and her proposal will be featured in more detail on the homepage of the Bright Ideas website, www.ncbrightideas.com and has been invited to attending the UNC-Chapel Hill vs. Florida State basketball game on Jan. 14, 2017 . Congratulations Mrs. Shrader!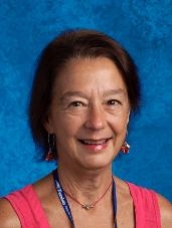 Elmhurst School Holds Hallo-READ Night
Elmhurst students, families and staff celebrated their 4th Annual Title I Hallo-READ night on October 27th from 6-8 pm. A huge crowd of over 500 people came out in costumes for free literacy games, prizes, free Kona Ice, pumpkin explosions and much more. Third grade teachers carved pumpkins and every 15 minutes they drew in crowds to watch the pumpkins explode. A bus filled with Elmhurst staff dressed in costumes picked up families from nearby neighborhoods and shuttled them to and from the event. Teachers created games and station activities centered around literacy and reading. As students participated in the activities, they received treats and prizes as rewards. All students who attended were given a free book as well. This year included a contest to see which worked better, gauge or toilet paper, to mummify the school Principal and Assistant Principal!
South Central High School Civics Classes Visited by Greenville Police Chief
Chief Mark Holtzman, City of Greenville Police Department, spoke with the Civics classes of Victoria Bridgers, Mary Kathryn Hurst, and Pat McRae at South Central High School on Tuesday, October 25, 2016, as a part of their study of the executive branch of government at the local level. Chief Holtzman told the students about his own path in education, including deciding to go to college so he could have the opportunity for a better paying job to support his family. Along the way, Chief Holtzman discovered a passion for law enforcement and public administration. He discussed the importance of how police interact with the public, and students asked questions on a variety of topics, including officer involved shootings nationwide. The Chief cleared up some common misconceptions, as well as discussed training in de-escalation techniques the Greenville Police Department will be receiving to give officers more tools to use in tense situations.
In the photo, Chief Holtzman, left, is introduced to the students by teacher Mrs. McRae.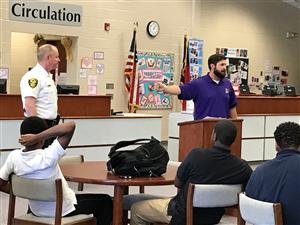 Ayden Middle Media Center Conducts Computer Programming Sessions – Unplugged!
Ayden Middle School's media center offered two Code.org Unplugged sessions during the Go Knights! flex period in October. The first session was Paper Airplane Algorithms, in which students followed and then wrote their own algorithms to make paper airplanes. The session concluded with students flying their paper airplanes. Students "programmed" their friends to walk through a grid and find a hidden smiley face during the second session called Move It, Move It Programming. Code.org Unplugged sessions teach computer programming skills using everyday objects that do not require electricity.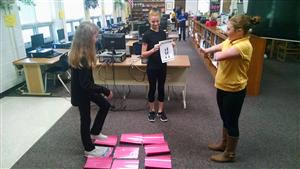 Chicod Holds PBIS Fundraiser
Chicod School held a Kona Ice fundraiser to help purchase PBIS incentives for students. Students were able to enjoy snow cones and raise money for rewarding themselves when displaying appropriate behavior.
Elmhurst School and the Health Sciences Academy Conduct Teddy Bear Hospital
Vidant Hospital nurses and the Pitt County Health Science Academy hosted the Teddy Bear Hospital for Elmhurst kindergarten and 1st grade students. The purpose of the event was to decrease child anxiety associated with the hospital, while promoting healthcare professions.
School Spirit Week at Wellcome Middle School
Wellcome Middle School held their school spirit week recently. Below are some of the photos from their daily themed events:
Grifton Students Preparing for EOGs
Mrs. Uhlenbrock's 3rd graders at Grifton School decided to take a break from Cool Math and PBS Kids to try out Study Island as another resource in preparing for their first year of EOG's!
Ayden Middle Builders Club Lead BINGO Entertainment at Local Nursing Home
The Ayden Middle School Builders Club visited Ayden Court Nursing and Rehabilitation Center in October. Builders Club members played BINGO with Ayden Court residents during their visit.