Walking the Halls (November 21, 2016)
J.H. Rose Wind Ensemble Performs at NCMEA
The J.H. Rose High School Wind Ensemble, led by Directors Russell Knight and Matt Howard, had the honor of being invited to perform at the 2016 NC Music Educators Association In-Service Conference in Winston-Salem, NC on Monday, November 7.
The links below will take you to video of their seven beautiful performances. Wonderful job Mr. Knight, Mr. Howard and the JHR Wind Ensemble!
E.B. Aycock Teacher Named NC Music Teacher of the Year
Congratulations to E. B. Aycock's Mrs. Stephanie Peo, who was selected as the 2016 NCMEA (North Carolina Music Educators Association) Teacher of the Year. Each year, the NC Music Educators Middle School Choral Section honors one of their very own who has demonstrated outstanding teaching within the profession. We are very proud of Mrs. Peo on this much-deserved recognition!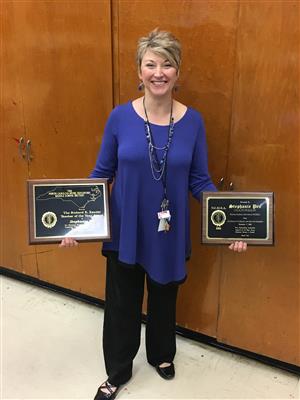 #GreenvilleStrong T-Shirts Support Flood Relief Efforts
The words of Mrs. Elizabeth Ennis, 3rd Grade Teacher at Eastern Elementary School:
"This past October brought the tragic and unforgettable events of Hurricane Matthew to Greenville. My husband is a Greenville local, and remembers the events of Hurricane Floyd in 1999 and how big of an impact it had on friends, family, and the community in general.
As Hurricane Matthew passed and the flood waters continued to rise, we attended the Day of Prayer at the Green Street bridge. We both felt called to go and be a part of this wonderful time of crying out to the Lord for mercy, strength, and perseverance for our community. It was a truly beautiful experience to come together with people from many different backgrounds, in unity, to offer our prayers with one accord.
After this event, we both wanted to do more to give back. We both agreed that starting a t-shirt campaign would be an easy way for people to donate while showing pride for their community.
After receiving an email from Pitt County Schools with suggested ways to help flood victims, we knew The Pitt County Education Foundation would be a direct way to provide for students who had specific needs following the storm.
We designed a shirt logo using the hashtag #GREENVILLESTRONG and the scripture Psalms 95: 5-6. We used a picture of the state of North Carolina with a heart over Greenville to represent love for our home.
Our initial goal was to sell 100 shirts. After just a week of fundraising, we sold over 600 shirts and raised over $7,000.00! Donations poured in from all over: Texas, New Jersey, Georgia, Indiana, and Washington, DC.
It blesses us to bless others. We are so thankful we were able to give back to the community that we love. #GreenvilleStrong."
On behalf of the students and staff of Pitt County Schools, thank you Mr. & Mrs. Ennis for your thoughtfulness and creativity in supporting those of us in need during a very difficult time for our community!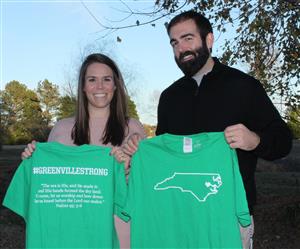 Students Win First Place in Poster Competition at Neuroscience Symposium
Two high school Honors Medicine students from D.H. Conley High, Storm Davis and Haroon Dar, in collaboration with undergraduates Pranaya Pakala and Colin Johnson of East Carolina University, presented the poster "3-D Cerebral Organoids Model the Development of Autism Pathology" at the 18th Annual Neuroscience Symposium of the Eastern Carolina Chapter on Monday, October 31 in the East Carolina Heart Institute. This team was awarded first place in the undergraduate poster competition for their research and presentation. Very impressive! Congratulations to these outstanding Health Sciences Academy and D.H. Conley High seniors!
Pictured far right are Storm Davis (aqua shirt) and Haroon Dar (khaki suit).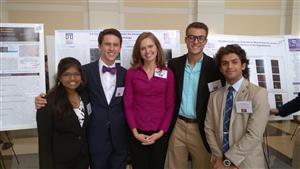 A pdf of their poster can be found at the following link:
North Pitt High Teacher Presents Research at National Conference
Dr. Hattie Hammonds, English teacher and department chair at North Pitt High School, was a presenter at the 30th annual University Council for Educational Administration (UCEA) Convention held November 17-20, 2016 at the Detroit Marriott Renaissance Center in Detroit, MI. The purpose of the 2016 UCEA Convention was to engage participants in discussions about research, policy, practice and preparation in the field of education with a specific focus on educational leadership. Dr. Hammonds presented three papers at the convention.
The first paper, "The Perceptions and Experiences of Black, Female Students at a Predominantly White Institution (PWI)," was co-authored with Dr. Cherese Fine from Clemson University and Dr. Corliss Brown Thompson, Northeastern University and was a mixed methods study on undergraduate female students and their experiences at a predominantly white institution in the south. This paper was recently accepted for publication in a special issue of the NASPA Journal on Women in Higher Education that will be released in 2017.
The other two papers emerged from Dr. Hammonds' dissertation study. One paper, "How Early College High School Principals Demonstrate Democratic, Socially Just, Culturally Responsive Leadership," was a qualitative study on three early college high school principals in North Carolina and how they demonstrated democratic, socially just, culturally responsive leadership in their schools. This article will be published in the inaugural issue of the Diversity, Social Justice & the Educational Leader, a publication for district and campus leaders, teachers, and scholars interested in improving education systems and providing equitable learning opportunities for all students.
The final paper titled, "An Examination of Student Voice and Leadership in a Study on Early College High Schools," presented findings on how students at three early college high schools viewed their principal's leadership particularly in relation to how the principal encouraged student voice and student leadership. This paper will be submitted for publication to the Journal of Ethical Educational Leadership later this year.
Congratulations Dr. Hammonds on the outstanding research you have collected and for representing PCS so very well!
Chicod Students Run Lemonade Stand to Support Flood Relief
Chicod students Maddox and Miller Stanley helped with Hurricane Matthew relief efforts by setting up a lemonade stand. The brothers raised over $300 and presented Dr. Lenker with their donation. Thank you boys for demonstrating what service and citizenship is all about!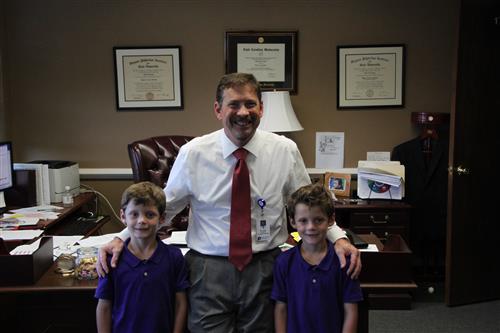 Creekside Celebrates Veterans Day
First graders at Creekside Elementary had a guest speaker in honor of Veterans Day. Mr. Christopher Swinson, a custodian at Creekside, served in the U.S. Army for 2 tours in Afghanistan. Mr. Swinson shared photos of his time there, as well as an Army Commendation Medal, uniforms, certificate, medic coin, and foreign currency. The teachers and students learned so much about the sacrifices veterans make for our country. Thank you so very much for your service, Mr. Swinson!
C.M. Eppes SGA Volunteers at Food Bank
The C.M. Eppes Middle School Student Government Association visited the Food Bank of NC in Greenville. As part of this service project, the following students volunteered their time and effort: Layaly Hamed, Jameson Warren, Alia Ertimi, Sophie Corley, Bhumi Patel, Kyndell Stinson, Cadence Dobra, Erica Bullock, Martasia Anthony, Kamos Perry, Avonte Daniels, & Brandon Cobra. Thank you students for setting a wonderful example as leaders in your school!
E.B. Aycock Students Recognized for Positive Behavior
Over 500 students attended E. B. Aycock's Jaguar Jam on Friday, October 28th. Jag Jam is a positive behavioral intervention that is awarded to students who received 2 behavioral steps or less for the first nine weeks. Students participated in activities like bingo, chess, face painting, checkers, uno, photo booth, cake walk, concessions/ticket booth, corn hole, pumpkin decoration, hula hoops, 2-legged race, flag football, cotton candy and more. Congratulations Jaguars on a job well done!
Farmville Middle STEM Students Explore The Martian
Jennifer Stevens, STEM teacher at Farmville Middle School, runs innovation groups during the enrichment period at the school. Recently, her students read the book The Martian and are working on a grand challenge around the problems that the main character, Mark Watney, encountered on Mars. One of her students created a stop motion video of Watney going to dig up the path finder communication satellite. He published it on YouTube at:
https://www.youtube.com/watch?v=eWWvGPLFUcI&feature=em-share_video_user
Really amazing things are going on at Farmville Middle School!
Stokes Lego League Team Wins First Place
The Stokes School Lego League Team won first place in "team building" during the Lego League competition on Saturday, November 5th. The team also qualified for the state competition. Congratulations on an outstanding performance, Stokes Team!
J.H. Rose Drama Club Attends Annual Fall Festival
Members of the J.H. Rose High Drama Club traveled on Saturday, November 5 to Washington High School to participate in the annual Fall NC Theatre Conference play festival. Those in attendance found it to be "an eventful, rewarding and informative experience" and plan to participate next year on an even larger scale to help represent Pitt County Schools.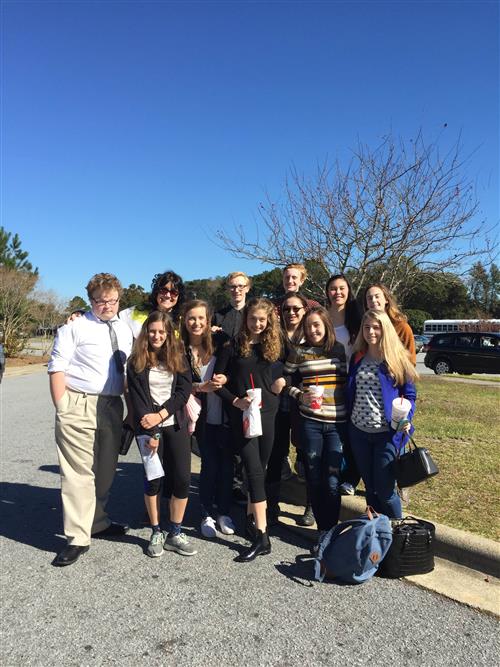 Wintergreen Intermediate Student Participate in Service Project
Mrs. Griffin and Mrs. Jackson's 5th grade students at Wintergreen Intermediate participate in monthly service projects. The projects aim to help local organizations, charities, and areas of need in the Pitt County community. For the month of October, students collected items to be donated to the Community Crossroads Center. Thank you students and teachers for your service to our community!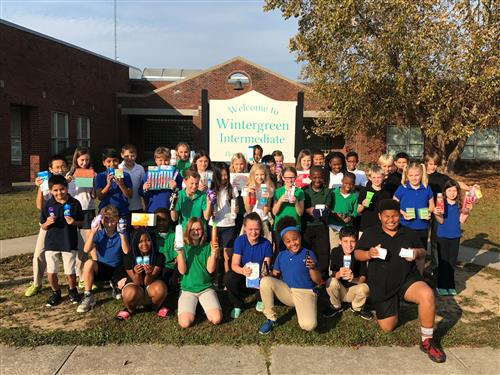 Students pictured below from left to right: Daniel Smith, Maggie Reid, Jamie Reid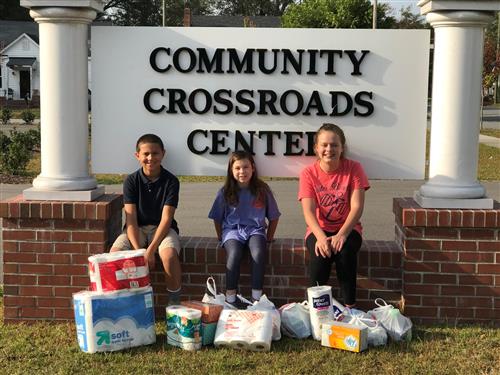 Bundy Students Demonstrate Positive Behavior
On Friday, November 4th, the Sam D. Bundy Elementary students who had met their PBIS requirement for the first nine weeks attended a "Paw Party". This nine week's Paw Party included a performance by the HYPE Step Team. There were even a few teachers and students from the audience who were able to participate!
North Pitt L.A.D.I.E.S. Host Guest Speaker, Learn about Self Worth
From riding in the backseat of a motorcade with former President Bill Clinton to speaking with North Pitt High School's L.A.D.I.E.S group, Mrs. Diane Taylor, owner of Taylor Made Publishing, shared stories and lessons from her versatile life with the group. Mrs. Taylor spoke with the girls about knowing their worth, while valuing themselves and others. Students also participated in a rap session about which "box" (if any) they fit into at school, at home, and in life.
Falkland Fourth Graders Share Thoughts on Election
Kelly Zimmerman's 4th graders at Falkland Elementary were filmed by Allie Weatherton of WNCT-9 news sharing their thoughts and feelings on the recent election results:
http://wnct.com/2016/11/09/greenville-elementary-teacher-helps-students-learn-election-lessons/
Wintergreen Intermediate Students Show Support for Veterans
Third grade students at Wintergreen Intermediate in Mrs. Smith's, Ms. VanSchagen's, Ms. Spain's, and Mrs. Ricciarelli's classes learned the true meaning behind Veterans Day. Friday November 11th wasn't just a day off from school to these students as they understood that the time away was solely to honor those who have served our great nation. Through the week, the students collected canteen items for the North Carolina State Veterans Home in Kinston, NC. Students made cards thanking our local veterans to accompany their generous donations. Donations were delivered on November 16, and the Veterans were so excited for the sweet cards and great snacks!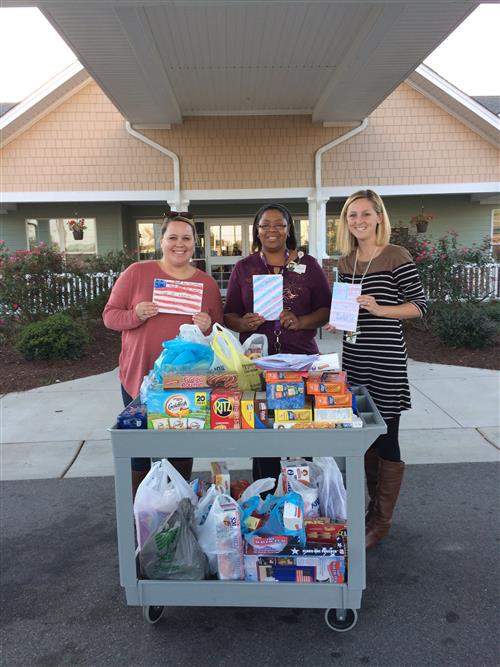 Alpha Students Elect Representatives
The Alpha Center recently held its first elections for Student Government Association. Students made campaign speeches and placed posters along the walls of the Center. The elections were held on Tuesday, November 8 with the following winners announced:
Officers: Noah Byrum, President; Sandy Moore, Vice- President, Kenia Caudle, Secretary; Luke Smith, Treasurer; Classroom grade representatives: Lamarion Baptist, K-4; Jeremiah Green, 5-6; Kaleb Canfield, 7-8; Joshua Moore, 7-8. Congratulations to our new Alpha student representatives!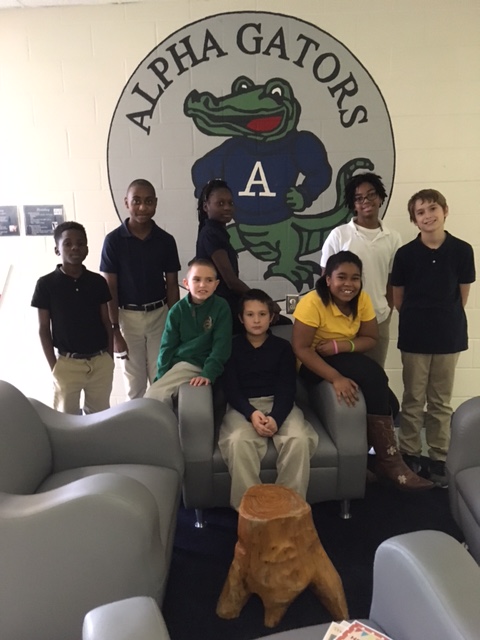 Stokes Students Study Order of Operations
Fifth grade students In Mrs. Current's class at Stokes School have been working on order of operations. The students were given a few numbers and an answer, and they had to synergize to identify the correct operation and the order of the operations to get the answers.
School Counselors Attend State Conference
School Counselors throughout Pitt County attended the North Carolina School Counselors Association (NCSCA) state conference representing the Northeast Region, District 1. Congratulations to Zulena Staton of North Pitt High, who serves as the Vice President for the region and helps to keep her colleagues abreast of best practices in the field of School Counseling.
"Advocacy equals intentional outcomes for students and the School Counseling Profession" was the title of the conference. A variety of best practices were shared by professionals throughout the state. Pitt County had terrific representation from our School Counselors!

Northwest Students Learn About Voting
On Election Day, Ms. Burch's Kindergarten class at Northwest Elementary learned about the process of electing a president. After that, students hit the polls and elected a class president.
Eastern Class Enjoys Lunch with Sheriff
Mrs. Adams' Kindergarten Class at Eastern Elementary won the drawing for "Lunch with Sheriff Elks". Students were treated with pizza, a sheriff's badge and a sheriff's hat. Students had the opportunity to talk with Sheriff Elks about his duties. Many thanks to Sheriff Elks for his time!
Pitt County Schools Softball Tournament Winner Decided
The A-Team recently won the Fall 2016 Pitt County School Staff Softball Tournament. They were down at the bottom of the 7th inning, but came back to tie the game and send it to the 8th inning (extra innings), where they ultimately won the championship. Congratulations members of the A-Team!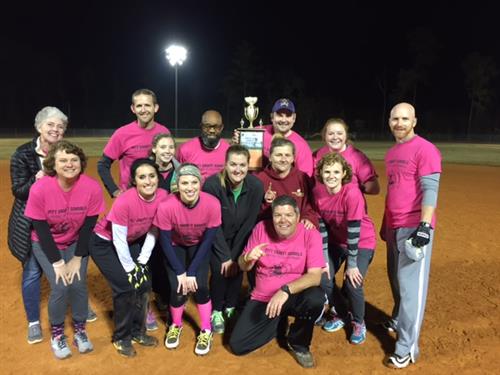 Creekside Runners Joined by ECU Cross Country Team
ECU's Cross Country team joined the Creekside Running Club for practice on Tuesday, November 15, 2016. The college athletes led warm-ups, shared tips on training and persevering, and ran with the students. It was a great day for both groups. A special thanks to Josey Weaver, ECU's Cross Country Coach, for bringing the college students to Creekside!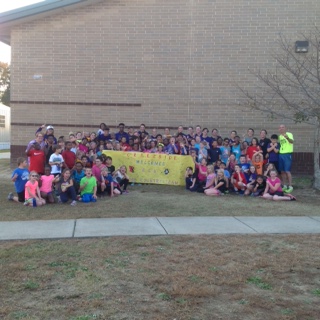 Dads Visit Northwest for Donuts and Quality Time
At Northwest Elementary, dads visited campus to enjoy a breakfast with their children for Donuts with Dad. A great time was had by all!
South Greenville Students Demonstrate Appreciation for Veterans
Michele Fields' class at South Greenville Elementary learned about Veterans Day leading up to the holiday. Ms. Fields brought in her uniforms and talked about her service in the U.S. Army. The students wrote thank you letters to Veterans. Thank you Ms. Fields for your service to our country and your service to our students!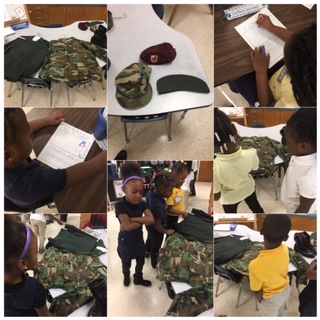 An Eastern Parent's Thoughtful Gift
Students in Mrs. Adams Kindergarten class at Eastern Elementary came to school with a wonderful surprise. A parent made a stage for them to use so they can use the smart board more effectively and reach up higher during the lessons. What wonderful parents we have in our community!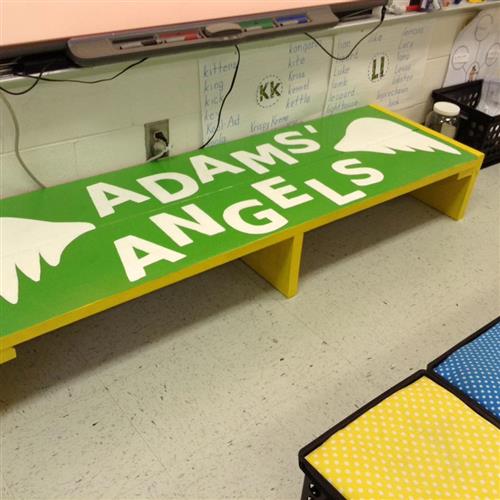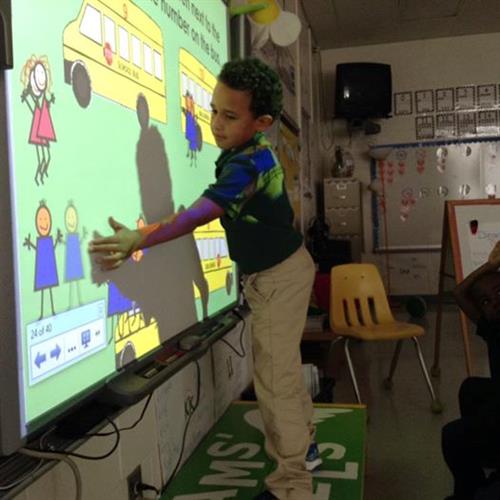 Recycling Project a Success at Grifton
Grifton School has been collaborating with the ECU Honors College and Pitt County Recycling on a recycling contest called "Your Voice & Improving Our Planet". Data for the past several weeks on the project are found at the links below, along with a picture of the bulletin board where the participants are posting recycling contest information. Great job Grifton students!
10-28-16 Recycling Data for Grifton
11-04-16 Recycling Data for Grifton
Eastern Lego Team Featured in Newspaper
Eastern Elementary's LEGO League teams were highlighted in an article in the Daily Reflector recently at http://www.reflector.com/News/2016/11/05/School-kids-ready-to-Lego-some-knowledge.html
Career Awareness Month Held at Ayden Elementary
October was Career Awareness month at Ayden Elementary School. Throughout the month, students discussed and explored different careers they may want to choose in the future. On October 31, students were able to dress up as the profession they want to be in when they grow up. Many professions were represented. Winners were chosen from each classroom for being the most creative.
South Greenville Students Attend ECU Education Day Event
On November 16th, South Greenville Elementary took 215 students to the ECU Women's Basketball game to support Education Day at ECU. This was the school's positive behavior incentive for the 1st 9-weeks. The school had over 260 out of 400 students qualify! Students had to have no office or bus referrals and had to maintain an average of at least 85% on Class Dojo for the entire 9-weeks. A majority of the students who attended had never seen a college campus or gone to a basketball game, so it became more than just a reward field trip. The students and staff had an amazing time!
South Central High Students & Staff Share Who Motivates Them
Please see the link below to view a video of South Central High School students and staff naming who helps to inspire & motivate them to come to school each and every day:
Many thanks to Mrs. Paula Elks and all SCHS staff who helped to put this together!
Moms and Dads Participate in Events at South Greenville
South Greenville Elementary held two parent events coordinated by the school's Media Specialist, Katie Richardson. She organized "Game Day with Dads" and "Crafts with Mom" events that proved to be exemplary. Turnout was outstanding for both events! Doughnuts and juice, fun activities and raffle drawings were among some of the activities. Parent and student feedback indicated the events were well received!
J.H. Rose High Theater Students Recognized at Play Festival
The North Carolina Theatre Conference (NCTC) Board of Directors recognized J.H. Rose High School's theatre department at the 2016 NCTC High School Play Festival.
Professional actors and directors watched each show and gave thoughtful feedback to students, encouraging further growth. The judges recognized J.H. Rose with the following awards:
Cutting Line - Rating: Good
Theatre Arts Award - Excellence in Animal Physicality: Celi Cooper
Barbizon Excellence in Design & Production -Student Director: Sophie Lewis
For more than 30 years, schools from all across the state have gathered at the Play Festival to share their talents and celebrate their collective achievements. The program was named one of the "Top High School Theatre Festivals" by Stage Directions Magazine, is the largest high school theatre event in the Southeast, and has been replicated in 9 other states. This year, students participated in one of eight regional Play Festivals, hosted by professional theatres, colleges and other high schools, featuring 3,000 students from 90 schools, in 126 productions!
Congratulations to J.H. Rose High and its student winners!
E.B. Aycock Twelve Team Wins Regional Competition
Congratulations to E. B. Aycock's Twelve Team and Ms. Woolard on winning the Northeast Region Competition held Saturday, November 19th. The team will be traveling to the state competition in High Point on December 19th.
Twelve is a knowledge-based academic competition where teams of 12 students tackle twelve questions covering a variety of subject areas. Subjects include literature, technology, writing, U.S. History, World History, Earth Science, Life Science, Math, Arts and Media, and Health and P.E. Congratulations to participants and good luck representing EBA and Pitt County Schools at the state competition!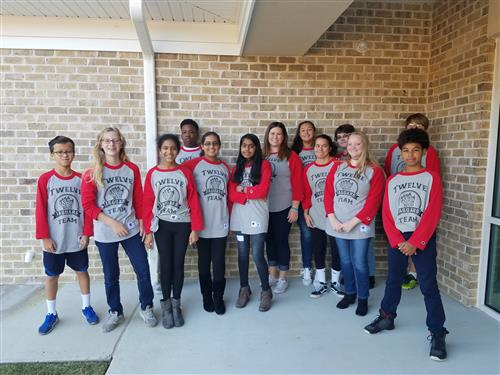 C.M. Eppes Raises Awareness to Combat Breast Cancer
Students at C.M. Eppes Middle School dressed up in pink to raise money for breast cancer awareness. The school was able to raise $120 to purchase 30 hats for breast cancer patients at the Leo Jenkins Cancer Center. Beta Club students also wrote words of encouragement to the patients. The students truly enjoyed this opportunity to help encourage others in their fight against breast cancer!
History Changers Museum Conducted at South Central High for Creekside Students
The halls of South Central High School rang with the voices of excited Creekside Elementary second graders on Friday, November 4th . The second graders in the classes of Kelli Augustson, Ashli Dawson, Chelsea Jacobson, Codi James, and Lisa Moore came to visit SCHS for the Third Annual History Changers Museum. The Creekside students were able to interact with SCHS students in a series of learning stations.
Consuelo Schwartz's Spanish II students led a show and tell of artifacts from around the world such as a soccer jersey and fan scarf from Spain, a nesting doll from Russia, a flag from Colombia and fan and a box from South Korea. French III students of Jane Breaux's read the popular children's book Goodnight Moon in French, as well as taught the second graders the French version of "Heads, Shoulders, Knees, and Toes".
Media students of Linda Branch helped the children work on a craft project, and Innovation students of Paula Elks served as tour guides for the day's activities. The main event was the History Changers Museum where the second graders interacted with World History students from Kate Lucas's classes who were dressed as a historical figure they felt had a great impact on history. The SCHS students had researched their history-changing figure so they could answer questions from the second graders.
Nerfertiti, played by Jazlynn Smith, won the most tokens as the 2nd graders' favorite figure. Each year, the school begins with a list of historical figures compiled which includes people from the Neolithic Revolution through today such as Hammurabi, Mansa Munsa, Franklin Delano Roosevelt and Eva Peron. Students also have the opportunity to add to the list and find a historical figure that speaks to them. Last year Indira Gandhi was added. This year Marie Curie, Pocahontas, Nefertiti, and Charles Darwin were added.
SCHS student Christopher McDuffie who chose Darwin said, "I enjoyed this project because it allowed us to connect with figures of the past through research and role play."
Photo Captions:
Photo 1: Real Madrid: From left to right: South Central Spanish II students Trequan Smith, Dajon Williams, William Whitfield, Erick Garza. The student with the Ecuadorian mask is Hunter Herring.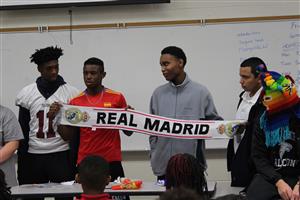 Photo 2: South Central High School 9th grade World History students of Kate Lucas from left to right: Jessica Purcell as Benazir Bhutto, Malik Jenkins as Nelson Mandela, Sydney McDuffie as Eva Peron, James Carmon as Nelson Mandela, Trent Nish Jr. as Franklin D. Roosevelt, Mary Weeks as Marie Curie, Jared Barnes as Hammurabi, Christopher McDuffie as Charles Darwin, Wyatt Bagwell as Abraham Lincoln, Mason Jackson as John Locke, Jerald Whitley as Galileo, Nyla Harper as Pocahontas, Bethany Tart as Queen Elizabeth I, Daniel Franklin as Leonardo Da Vinci, and Natalie Haldeman as Queen Isabella of Spain. In the foreground are Creekside students Alayna Jones and Natalie Beamon.