Walking the Halls (January 17, 2017)
PCAEOP Prepares Care Packages for Nursing Home Residents
The Pitt County Association of Education Office Professionals prepared care packages for residents of Red Oak Manor Nursing Home and provides gift bags to staff at the Home. Additionally, PCAEOP made donations of paper products to McConnell-Raab Hope Lodge and art supplies to the local Ronald McDonald House.
South Central High Student's Efforts Lead to Recognition of Key Historical State Figure
South Central High School student, Serena Chu, knows just how powerful a National History Project can be. On Tuesday, December 20th, Serena, her family, and her National History Day advisor, Jennifer Bryan, a Social Studies teacher at the school, participated in the unveiling of a Highway Historical Marker honoring the life and work of Dr. Annie Alexander, the first woman physician in North Carolina. Based on advice received at the National History Day competition in Bethesda, Md, in the summer of 2015, Serena applied for a marker to honor Alexander to the North Carolina Historical Marker Program.
Shelia Bumgarner, librarian at the Robinson-Spangler Carolina Room at the Charlotte-Mecklenburg Library on Tryon Street said, "We are all every excited about the unveiling of the marker commemorating the achievements of Dr. Annie Alexander, North Carolina's first woman physician. "
Serena nominated "Dr. Annie" for this honor. Miss Chu placed second in the 2015 National History Day Competition in Raleigh with her biographical website of "Dr. Annie." This led to her requesting the North Carolina Historic Marker Program place a historic marker at the site of Dr. Annie's former home at 400 North Tryon Street. It was at that location that Dr. Annie practiced medicine for over thirty years. A video of Serena discussing her interest in Dr. Annie and in the historical marker can be found below:
South Central High Honor Society Collect Stockings for Pitt County Drive
South Central High School's Honor Society collected more than 130 Christmas stockings in their 10th annual "Stockings for Pitt County" drive. Pitt County Schools' Social Workers distribute the stockings to needy high school students throughout the district.
Pictures left to right are members Maci Lee, Julia Kuther, Fares Dissi, Moriah Anderson, and Nicole Gomez-Bush.
South Central High Baseball Team Gives Back to Community
South Central High School's head varsity baseball coach, Pat McRae, wants his team to know the value of community both on and off the field. In his first year at the helm of the varsity program, McRae has organized a series of service opportunities for the team. "When I played baseball in high school in Scotland County, my coach organized these opportunities for us. He thought it was important, and it made an impression on me. I want to give these young men an opportunity to serve those who
may not be as economically fortunate in our community. South Central's former Head Baseball Coach 'Peanut' Langston always told me that if we take care of the community, the community would take care of us."
The team has volunteered every third Saturday at the Third Street Community Center doing whatever was needed including yard work for those citizens of West Greenville who may not be able to do those tasks for themselves. McRae told the story of a retired educator who comes out to work side by side with the team when they work in her yard. After a recent chicken plate fundraiser, the team took a donation of 80 plates to Crossroads Community Center to feed the homeless clients there.
"I want our team members to be mindful that not all students who walk the halls of South Central with them are as fortunate as they have been. I want them to understand and find compassion for their fellow students and for their greater community," McRae said.
Photo caption: South Central High School Varsity baseball team members are pictured after delivering a donation of 80 chicken dinner plates to Community Crossroads Center in Greenville.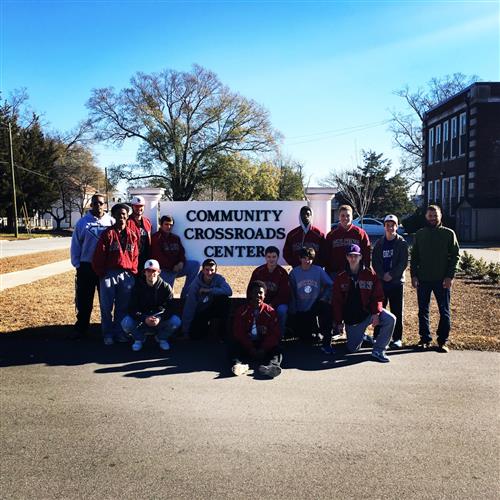 C.M. Eppes Middle Staff Celebrate the Holidays
The staff at C.M. Eppes Middle School boarded the PLC train at the Collaboration Station for some holiday fun!
HB Sugg and Sam D Bundy shows GRIT in Reading
Take a moment and see how students at H.B. Sugg and Sam D. Bundy Elementary are making reading cool! Instead of the mannequin challenge, these students who were selected by their teachers for showing GRIT in reading were asked to help make a video demonstrating how reading is cool!
Ayden Middle Students Participate in One Book One School, Ugly Christmas Sweater Contest
Students and staff at Ayden Middle School participated in an Ugly Christmas Sweater contest. Many students and staff showed off their creative skills by making ugly Christmas sweaters.
Also, students and staff participated in One Book One School in December. The entire school read Three Times Lucky by Sheila Turnage and completed many extension activities related to the book. Volunteer readers from the surrounding Ayden community and Pitt County Schools joined in reading the books. A video of the school's One Book One School video can be found below:
Farmville Middle School Holds Induction Ceremony for NJHS
The Farmville Middle School Chapter of the National Junior Honor Society held their induction ceremony December 1st. Thirty-Nine 7th graders and three 8th graders were inducted by Mr. Paul Briney, Principal. Students must maintain a 90 average on all core subjects and pass all Encore subjects to be eligible. Mr. Glen Webb, Pitt County Commissioner, gave a very inspirational talk to the inductees. National Junior Honor Society sponsors are: Delane Fuquay, Jane Shrader, Mary Cox, Kathi Howell, Laura Clark, Lisa Clark and Lisa Ours.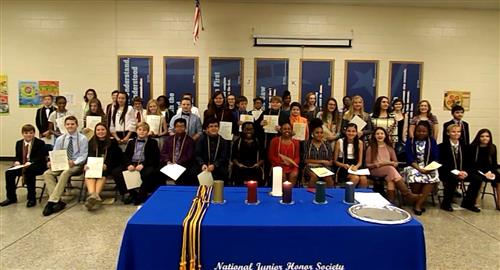 Wellcome Middle School Introduces the Health Sciences Academy and Creates Bottle Rocket Projects
Ms. Labarge's 7th grade bottle rockets....before the take off!
Also, introducing the Health Science Academy to the 8th graders at Wellcome Middle School.
Bundy Elementary's SGA and Sugg Elementary's 2nd Grade Ambassadors Sponsor Food Drive
The Sam D. Bundy Elementary SGA and the H.B. Sugg Elementary 2nd grade Ambassadors sponsored a food drive as a way to put kindness in action and give back to the community. They collected over 1,300 items that were donated to a local church who will get them to families in need.
Wellcome Middle Schools Hold First House Event
On Wednesday November 23rd, Wellcome Middle School held its first House Event. Students were able to participate in basketball tournaments, relay races, bingo games, and other activities throughout the school to earn points for their house. Below is a video of the events that took place:
Pactolus School PROFIT Club Visits Chowan University and the College of the Albemarle
Pactolus School's PROFIT club (Positively Reaching Outstanding Futures and Informing Teens) visited Chowan University and The College of the Albemarle for their fall college tour field trip. Students were exposed to information regarding applying to college, financial aid, residence requirements, available programs and studies, and much, much more! Students learned that at smaller universities, like Chowan, the professors are more personable and more students are able to receive scholarships. The most exciting part of the day was touring the live medical lab and the theater arts department at The College of the Albemarle.
Sugg and Bundy Elementary Schools Host McTeacher Night at McDonalds
On November 3rd, Sugg and Bundy Elementary Schools hosted McTeacher Night at the McDonalds in Farmville. This was a great community event and was a great way for our teachers to spend time with the students outside of school. They sold spirit shirts and raised $600 for PBIS (Positive Behavioral Intervention Supports) through McDonalds. It was a great night!
Sugg and Bundy Elementary Schools Host Dudes and Donuts
H.B. Sugg Elementary and Sam D. Bundy Elementary had "dudes" show up to have a donut and talk with students. Parents, grandparents, uncles, firemen, police, linemen, teachers, principals, preachers, congressmen, town commissioners, ECU athletes, and many other "dudes" attended. It was great to see so many male role models in the building supporting the schools' "pawtastic" students.
Grifton Elementary Students Visit Museum and Science Center
The 3rd grade classes of Grifton Elementary took a field trip to the Rocky Mount Children's Museum and Science Center on December 2nd. Students were allowed to have a "hands-on" experience with Lucky the snake. They learned about sun storms in the Cummins Planetarium, which ended in a question and answer session about not only sun storms but also about astronauts in the space station. The students enjoyed the various science stations throughout the museum.
Ayden Middle Students Visit North Carolina Museum of Natural Sciences
Mr. Wade's year-long 8th grade STEM class at Ayden Middle School visited the North Carolina Museum of Natural Sciences in Raleigh. The students are pictured "holding up the world" outside the museum.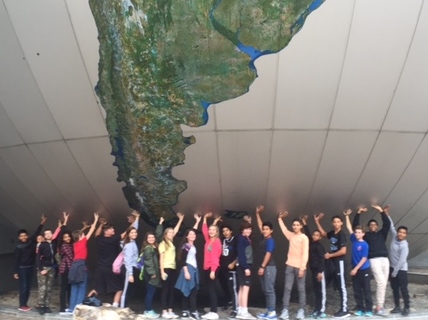 Ridgewood School Hosts AuthorFest
Ridgewood Elementary held its 7th Annual AuthorFest on December 1st. Kim Norman, author of I Know a Wee Piggy and The Bot That Scott Built, and Barbara O'Connor, author of Wish and How to Steal a Dog, visited the school and shared presentations detailing their writing careers and the importance of reading. A writing contest was held for students to earn a seat at the AuthorFest Luncheon.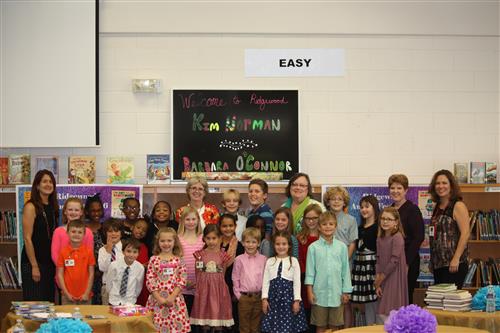 G.U.Y (Grifton Uplifting Youth) Mentoring Program Attend ECU Women's Basketball Game
G.U.Y. ( Grifton Uplifting Youth ) Mentoring program was created by the school counselor, Gwen Lewis, to utilize the adult men (teachers) at Grifton School to work with middle school males on leadership, conflict resolution, improve behavior, and academics. The students attended an ECU women's basketball game on Sunday, 12/4/2016 to kick off the program, and to build rapport among the mentors (Coach Paul Hill-C.T.E., Coach Brandon Scott-P.E., Landis Wilson-Math, Mr. "D"-Title 1, Michael Wells-Art, and Scott Pagona-Band/Orchestra) . The trip was a lot of fun, and a tremendous success. Go pirates, aaarrrrghhhh!!!
Ayden Elementary School Kickoff Istation
Students and kindergarten, first and second grade attended an assembly to kickoff Istation at school and at home. Each student has a personalized learning path and embark on interactive reading adventures with Istation Reading. Students have fun while characters Bossy R, the Oddballs, Paige Turner, and Justin Time guide them through explicit, direct, and systematic research-based content that identifies and adapts to students' individual needs. With Istation Home, students pick up right where they left off at school and can continue on their individualized learning paths at home.
South Greenville Media Coordinator Recognized by NCEMCS
Katie Richardson, the South Greenville Elementary Media Coordinator, was recognized December 2, 2016 by NCEMCS at the The Dail Club, in Vaughn Towers at N.C. State University, Carter-Finley Stadium.
Mrs. Richardson received a "Bright Ideas" Grant for her proposal of connecting ELA and Social Studies for students studying North Carolina history to digitally step into history using a green screen app. Students will identify an event or location important to the story of our state and place themselves back in time. This will serve as an opportunity to integrate writing in the Social Studies curriculum and connect students to the past.
Mrs. Richardson is anticipating that her work will involve other staff and students as she implements the use of the green screen.
The NCEMCS has been awarding teachers with grants for over 20 years. We are very proud of Mrs. Richardson for her efforts, and congratulate her for being awarded the Bright Ideas grant!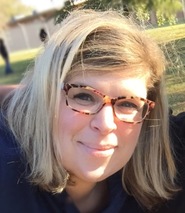 South Central Math Teacher Introduces Math Stations
From Tamra Harris, teacher at South Central High School: "Challenging students to be 21st Century Learners involves teachers getting out of their comfort zones. I know it did for me. I want my students to participate actively every day. It's hard to keep them engaged for 90 minutes, but I found the most success when I incorporate stations and activities into my lessons. This week students worked through stations to solve a mathematical puzzle. I posted 5 stations of problems to solve one puzzle. Stations allows students to be kinetic learners by moving around in the hall and out of their desks. Another activity they had was "Happy Numbers." I let them work in cooperative learning groups that they picked. Sometimes teachers it's ok to give them ownership of the class as long as it's productive! The students seemed to like both activities. They have asked to do more. So, now we are embarking on a mini project revising the 12 Days of Christmas."
South Central High School DECA Competes at the MCEC District 1 Competition
The South Central High School DECA team competed at the MCEC District 1 Competition held at Black Jack OFWBC on Thursday, December 8th. Several students received recognitions.
Madison Deanes was the Role Play Performance Series Winner for Principles of Marketing. Joseph Evans was the Comprehensive Exam Winner and Event Finalist for Principles of Marketing. Arielle McMillian won Event Finalist for Apparel and Accessories. Njeri Bracy was recognized as Role Play Performance Winner, Comprehensive Exam Winner, and Event Finalist for Apparel and Accessories. Connor MacDaid was the Role Play Performance Series Winner, Comprehensive Exam Winner, Event Finalist, and won 2nd Place Overall for the Sports and Entertainment Marketing Individual Event.
The South Central DECA chapter advisor is Cameron Whitehead.
Science Family Fun Night at W.H. Robinson Elementary
Below are photos from W.H. Robinson Elementary's recent "Science Family Fun Night".
J.H. Rose DECA Attended District Competition
J.H. Rose High's DECA attended the district competition on Thursday, December 8. The members were awarded 16 proficiency awards, 7 role play finalist awards, 2 testing finalist awards, and 2 third place awards. Twenty-seven awards were won in all.
Many thanks to advisors Kelly Perkins, Marnie Hill, Antonio Bunn, and Elton Coffield
Local Business Leaders and Officials Visit Stokes School
Student leaders welcomed local business leaders and government officials to Stokes in November for a tour organized by Parents for Public Schools. Those attending the session included:
School Board Members- Robert Moore, Caroline Doherty, Melinda Fagundus
County Commissioner- Mary Perkins Williams
NC House Representative- Dr. Greg Murphy
Parents for Public Education- Kylene Dibble
The students discussed Stokes School, The Leader in Me, and the importance of academics. Student tour guides then took the guests on a tour of the school. This was followed by a student panel question and answer session.
Wellcome Middle School 7th Graders Working on Engineering Rockets Expedition
The 7th grade students at Wellcome Middle School have been working in the STEM Science lab on an Engineering Rockets Expedition. In this expedition (or unit), students have followed the engineering design process to design and build a rocket that meets specific challenge constraints and specifications. As students plan their design, they apply knowledge they gained about aerodynamics and the forces that act on rockets. As students compete in the challenge by launching their rockets, they use properties of triangles to calculate the maximum altitude of their rocket. After the competition is over, students evaluate their rocket's performance and make design improvements. Next, students will have one final chance to compete with their new and improved rockets. To summarize, students will explore and make career connections between what they have learned and how they can apply the information in the 21st Century workplace. Some careers they explored were: Aerodynamics Engineers, Propulsion Engineers, Rocket Scientists, Technologists, and Physicists.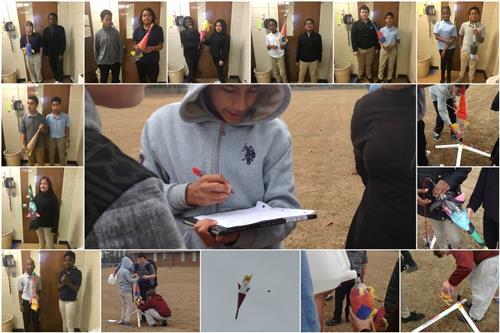 Students at Farmville Central Learn About Infection Control
Health Science II students at Farmville Central High learned about Infection Control Standards as a part of their curriculum.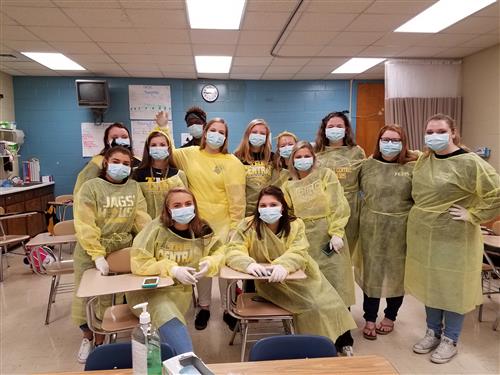 Ayden Elementary Students Participated in Hour of Code
Throughout the week of December 5-9, Ayden Elementary students participated in a worldwide event: Hour of Code. This week was Computer Science/Technology Education Week, and students learned how to code to create computer games and programs. This week is always exciting for students to learn how they can become real-life computer programmers and learn a real-world skill that could greatly impact their future.
BB&T Donate Water to the Staff at Wintergreen Intermediate
Many thanks to BB&T for donating water for staff at Wintergreen Intermediate!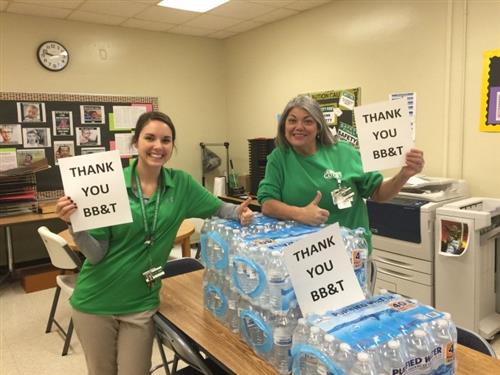 Sycamore Hill Missionary Baptist Church Donates Book Bags and Money for Hurricane Victims
Sycamore Hill Missionary Baptist Church led a book bag drive for students in need from Hurricane Matthew in Pitt County. Nearly 150 book bags were collected along with over $1,000 donated to the relief efforts of the school district for uniforms for hurricane victims.
Many thanks to Pastor Dr. Parker, guest pastor Dr. Gray, and members of the congregation!
GPD Talks About Bullying Prevention With Students at Alpha Center
Members of the Greenville Police Department spoke to students at the Alpha Center about Bullying Prevention in November. Officers spoke on ways to prevent bullying and to help others who you think may be the victim of Bullying. There also provided students with an anti-bullying coloring book.
Kindergarteners at Wahl-Coates Elementary Learn About Fall
To learn more about the fall season, Mrs. Barrett and Mrs. Chance's class at Wahl-Coates Elementary had their students make a pumpkin or an apple. Also, they wrote at least 1 sentence about it. The kindergarteners also had a project to find a way to disguise the turkey. They had to use different items to hide the turkey and make him look different. The students had a lot of fun completing this project!
Media Coordinator at Ayden Middle School Receives Juanita Fulton Johnson Memorial Mini-Grant
Mrs. Joy Hill, the Media Coordinator at Ayden Middle School, received a Juanita Fulton Johnson Memorial Fund Mini-grant from the Pitt County unit of North Carolina Retired School Personnel for "Hands On Reading Groups". Students in the reading groups will read books on their reading levels and participate in inquiry-based small-group lessons that teach Common Core ELA skills. Congratulations to Mrs. Hill!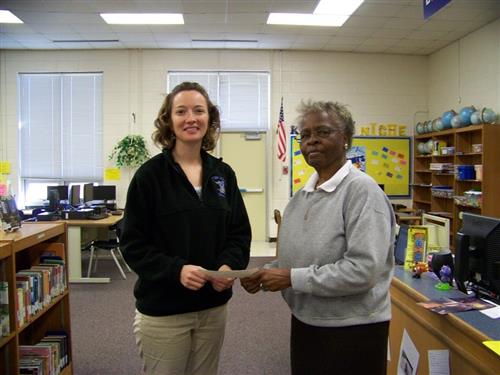 Ayden Middle School 6th Graders Play Human Battleship
Sixth grade students at Ayden Middle practiced their coordinate plane skills by playing Human Battleship before Thanksgiving break. Two students from each team plotted coordinates for Navy ships on paper coordinate planes, then gave each coordinate to a person on their team. The teammates "plotted" themselves on a coordinate plane taped on the floor. As the opposite team called out coordinates trying to find the other team's ships, the students called out hit or miss. The students sat down when they were "hit".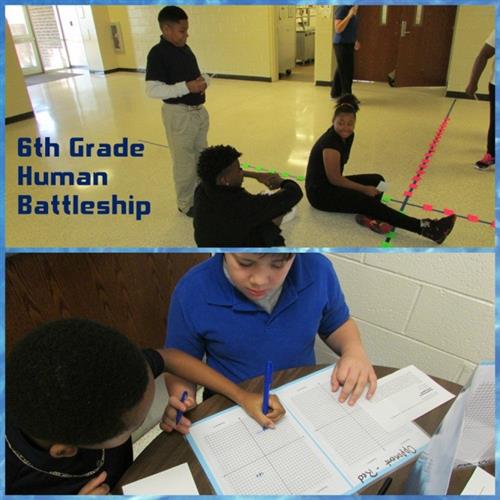 Ayden Middle School Receives School Supplies
The Pitt County unit of North Carolina Retired School Personnel collected and donated school supplies to Ayden Middle School.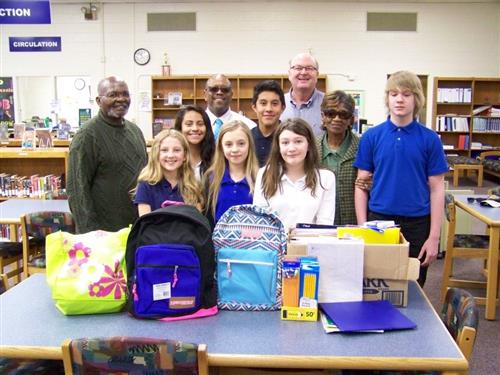 Ayden Middle School 6th Graders Make Salt-Dough Relief Maps
Mrs. Russell's 6th grade students made salt-dough relief maps of ancient Egypt after studying ancient Egyptians in Social Studies.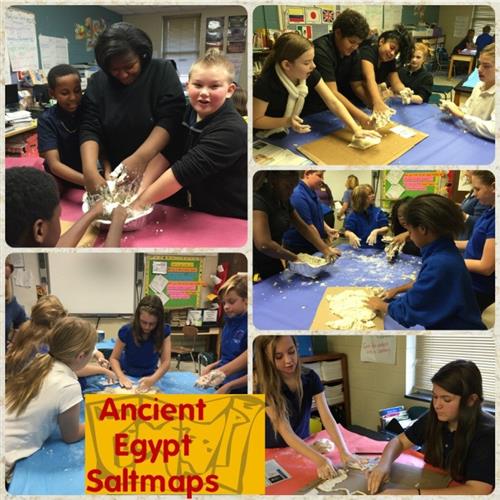 History Day at JH Rose
Here is a picture of students dressed up for my history day in American History 1. Students had to pick a historical character that made an impact on United States History from the Age of Exploration to Reconstruction.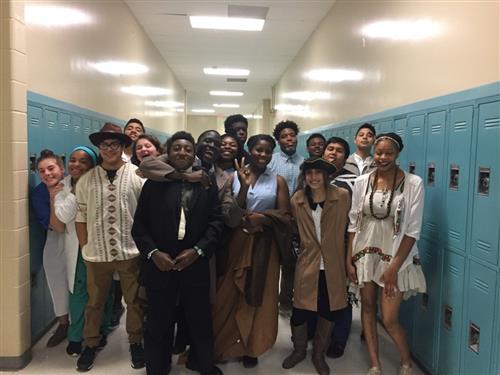 Farmville Middle School Receives Donation of a Fossil Pit
Read more at the link below regarding how Farmville Middle received a donation of a fossil pit for their students to use. Thank you to Potash Corporation and Martin Marietta's Fountain Quarry.
http://www.reflector.com/News/2016/11/22/Potash-Corp-Martin-Marietta-join-forces-to-aid-Farmville-Middle-School.html
Greenville Mayor Visits Creekside Elementary
Greenville's mayor, Allen Thomas, visited 4th graders at Creekside Elementary to discuss the roles and responsibilities of local government. As classes have been learning about state and local government, Mayor Thomas was able to make the curriculum relatable to the students and helped them build connections that would allow them to retain the material. Many thanks to Mayor Thomas!
Ridgewood Elementary Class Creates Mayflower Boat
Ms. Gorka's 3rd grade class at Ridgewood Elementary created a Mayflower boat using aluminum foil ( STEM Project). Pictured below are Ashley White, Krishna Patel, Riley Brooks, and Kaili Davis.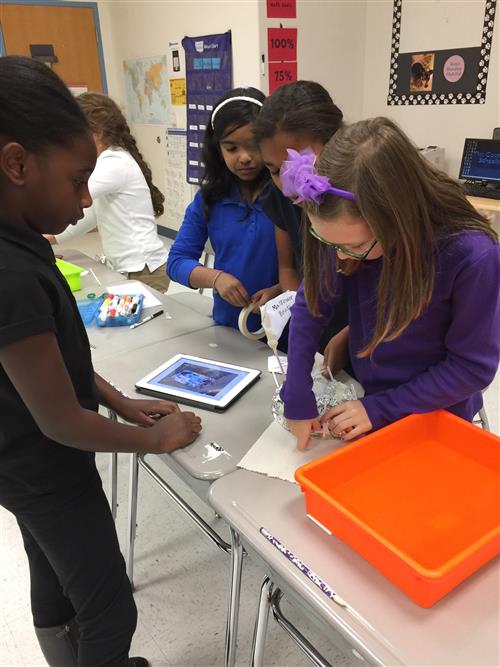 South Greenville Presented Books by Domtar of Greenville
South Greenville was presented books by the Domtar Company of Greenville as a part of the First Book initiative. They donated books to all 2nd & 3rd grade students and also books to a group of 4th grade girls who have taken part in activities based on the Girls Rising series. Domtar employees volunteered their time to come out and read to our students after the presentation. The students were so excited to get their books and start reading!
J.H. Rose High DECA Members Ring the Bell for Salvation Army
DECA members from J.H. Rose recently volunteered their time to help the Salvation Army with fundraising by working as bell ringers. Very proud of you, JHR DECA members!
Belvoir Elementary Holds Fall Concert
Belvoir Elementary recently held its fall concert. Pictures from this awesome event are below:
Belvoir Students Attend ECU Basketball Game for Education Day
Recently, Belvoir Elementary School students enjoyed the ECU Educational Day Basketball Game.
Mrs. Mejia Shares Presentation at Belvoir Elementary
Mrs. Mejia, Dos Mundos 1st grade teacher at Belvoir Elementary, recently had a presentation to share with parents about her native country and how she utilizes her experiences to help teach her students.
Belvoir School Celebrates 1st Nine Weeks Awards
Recently Belvoir Elementary celebrated their 1st 9 weeks award assemblies. Here are some pictures from the award assemblies.
D.H. Conley High Former State Wrestling Champions Visit School
D.H. Conley recently had four students from the school's 1995 state championship squad to attend the school's Milt Sherman Duals held on December 10, 2016.
WITN Teacher of the Week
Congratulations to Rachel Anderson of H.B. Sugg and Sam D. Bundy Elementary Schools on being named the WITN Teacher of the week!
http://www.witn.com/content/news/WITNs-Teacher-of-the-Week-Rachel-Anderson-from--405190895.html
Ayden Middle Students Visit A Time For Science in Grifton
All students at Ayden Middle School recently visited A Time For Science in Grifton. The students learned about science topics related to the science curriculum for each grade level. 8th graders are pictured learning about water supply and water usage. They learned how much water is wasted in their everyday activities.
Farmville Middle School Chorus Students Sing in Honors Chorus
Dylan Harris and Kenley Sitton, 8th grade Farmville Middle School students, were recently selected through an audition process, to sing in the North Carolina Music Educators Middle School Honors Chorus. Every year, the Middle School Honors Chorus is held in November, performing at the North Carolina Music Educator's In-Service Conference. Honors Chorus auditions are held in three regions across the state: West, Central, and East. Approximately 975 students auditioned for a seat in the 152 member choir. Only about the top 15% of auditioned singers are selected for this prestigious choir. This chorus provides an opportunity for the very best singers from across the state (grade 6, 7, and 8) to come together and work with a nationally acclaimed choral conductor. This year the chorus was conducted by Dr. Rollo Dilworth of Temple University . The Honors Chorus concert took place on Sunday, November 6th, in Winston-Salem. As in previous years, the concert was held in the Stevens Center.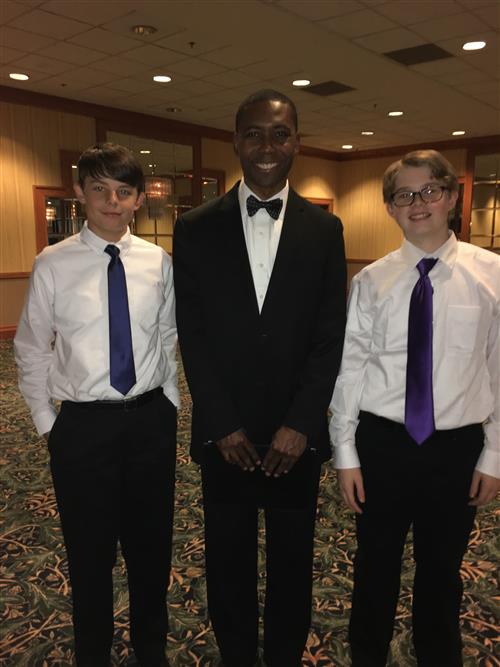 DH Conley French Students Host Story Hour at Barnes and Noble
DH Conley Honors French III and IV students recently hosted story hour at Barnes and Noble. Students prepared books by Dr. Seuss and Mercer Mayer to read to the children in both French and English.
Creekside Kindergarten Class Creates The Great Gingerbread Disguise
Ms. Williams kindergarten class at Creekside did a study on the different Gingerbread Man stories. The students then had a take home project to disguise the gingerbread man so that he wouldn't get eaten. The students used an iPad to create a video titled "The Great Gingerbread Disguise".
Wellcome Middle School Hosts First Boys Book Club
On December 2, Wellcome Middle School hosted their first Boys Book Club! The boys enjoyed dinner and then participated in a book talk. 6th graders discussed The Bully by Paul Langan and 7th and 8th graders discussed Monster by Walter Dean Myers. After discussions were complete, the boys participated in an game of basketball in the gym.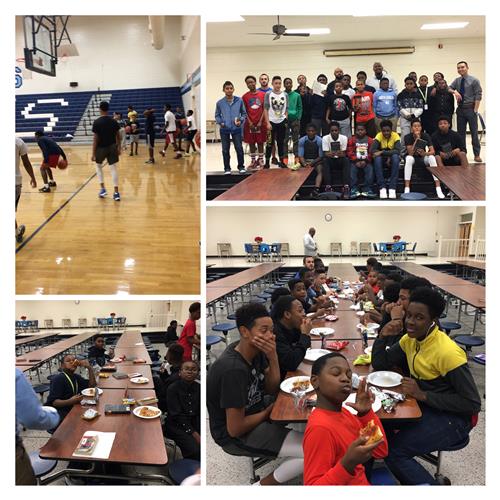 D.H. Conley High Students Spread Cheer to Needy Families
Students at D.H. Conley really worked hard to spread cheer to a lot of needy families this year by participating in the Conley Season of Giving from Nov. 28 – Dec. 12. Students were asked to bring in a toy, book, non-perishable food, or uniforms to help with those less fortunate. Over 1,700 items were collected. Mrs. Susan Cahoon, Graduation Coach, was responsible for organizing the drive.
Grifton School Students Participates in the Hour of Code
Grifton School's wonderful students participate in the "HOUR OF CODE" last week. Grfiton School is a K-8 school, and took the challenge that every student would participate to reach our 100% participation goal. This great TECHNOLOGY event took place from December 5th thru December 9th. This is a WORLD WIDE event for ALL students to learn about Computer Science/Programming/Gaming/and Coding hands on, and the career possibilities. Every student that participated thoroughly enjoyed the "HOUR OF CODE" week in Bulldog Country! Students received certificates once certain levels were completed in different areas of interest. Special thanks to Coach Hill (C.T.E.), Mrs. Hahn (Media Coordinator), Mr. 'D" (Title 1), Mrs. Mills (AIG), Administrators and Staff, and especially the students participation making this an annual SUCCESS for Grifton School.
The L.A.D.I.E.S Group of North Pitt Made Candy Wreaths
The L.A.D.I.E.S. Group of North Pitt High School worked on making candy wreaths for the holidays. This project provided a lesson in industry, teamwork, problem-solving (or as one student said trial and error) and most of all, how to have fun and get in the holiday spirit.
The L.A.D.I.E.S. Group extends a HUGE thank you to Mrs. Fletcher, English Teacher, for coming up with this idea. This project was a major success!
Farmville Central High Classes Donates Items
Students in Mrs. Alligood's and Mr. Bucknell's classes at Farmville Central High School donated to Community Crossroards Center items that they collected. They are pictured here with Mr. Bob Williams. Executive Director. The classes also viewed Christmas trees at the Greenville Convention Center. The day very enjoyable by all.
D.H. Conley High's FFA Creates a Float for Winterville Parade, Sets up Chicken Coop
The D.H. Conley High FFA recently acquired some chickens. They are living in a beautiful coop built by the D.H. Conley High construction technology classes.
Additionally, the FFA attended the Winterville Christmas parade and brought some of their new chickens along for the ride.
Ayden Elementary School Hosts Lunch for Local Heroes
On November 22, 2016 the Ayden Elementary PTA hosted a Local Heroes Lunch. Initiations went out to the area law enforcement, fire and rescue personnel inviting them to a lunch catered by Texas Roadhouse. It was a way to give thanks for those who work to keep the community safe. Each guest was greeted by posters and cards made by the students and then ate lunch with a class and talked with them about their profession. The students and the first responders all enjoyed their experience. The PTA hopes that this will become an annual event.
C.M. Eppes Middle Beta Club Gives Back
The C.M. Eppes Middle School's Beta Club students have been giving back this December. First, on December 3 students volunteered to be bell ringers for the Salvation Army outside of the Greenville Mall. Second, on December 10, students volunteered to help at the Food Bank of Eastern NC. Students sorted through potatoes to help families in need this holiday season. The Beta students enjoyed both opportunities.
Stokes School Shares Christmas Around the World Stem
1st and 2nd Grade students in Mrs. Edwards' class synergized to imagine, plan, and create a table from straws. The table needed to be two inches tall and support an index card and spice drops. This challenge came from students learning about Christmas in the United States where children leave out milk and cookies on a table for Santa Clause.