Return to Headlines
Last Day to Withdraw from ECU Courses: May 23, 2023
*This Thursday is the last day for students to withdraw from a college course. Leaders must have followed the required steps in order to withdraw from their college course. Anyone wanting to withdraw needs to speak to Mr. Grant on Monday.
*Este jueves es el último día para que los estudiantes se retiren de un curso universitario. Los líderes deben haber seguido los pasos requeridos para poder retirarse de su curso universitario. Cualquiera que desee retirarse debe hablar con el Sr. Grant el lunes.
ACT Testing Date: March 21, 2023
All juniors will take the ACT on March 21st. Leaders need to arrive at school ready to test at 9:15.
Todos los juniors tomarán el ACT el 21 de marzo. Los líderes deben llegar a la escuela listos para el examen a las 9:15.
5th Year Senior Registration Meeting: March 24, 2023
*On Friday, all leaders who are staying a fifth year next year must attend a required meeting with Mr. Grant in order to register for their college courses for next fall.
*El viernes, todos los líderes que se quedarán un quinto año el próximo año deben asistir a una reunión obligatoria con el Sr. Grant para inscribirse en sus cursos universitarios para el próximo otoño.
Glow in the Dark Dance: March 23, 2023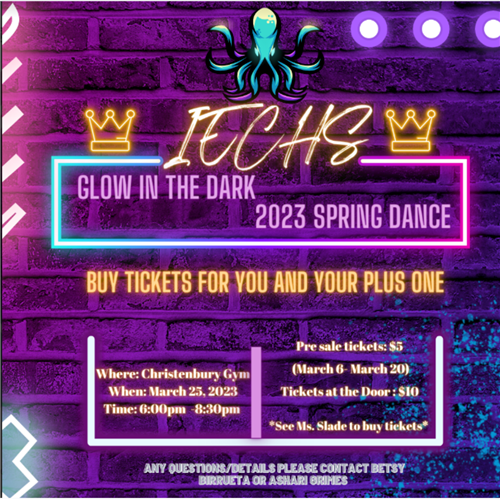 Title One Night: March 30th
*Mark your calendar for March 30th! We will host our next Title One Night from 6:00-7:30. The event will include sessions on the difference between the Innovation four and five-year plan, FAFSA, a Science student showcase, and a chat and chew session with other Innovation parents.
*¡Marque su calendario para el 30 de marzo! Organizaremos nuestra próxima Noche de Título Uno de 6:00 a 7:30. El evento incluirá sesiones sobre la diferencia entre el plan de innovación de cuatro y cinco años, FAFSA, una exhibición de estudiantes de ciencias y una sesión de charla y masticación con otros padres de innovación.
Prom Silent Auction: March 30, 2023
* Are you planning on attending the title one night? The IECHS prom committee will be holding a silent auction this night in order to raise funds for the second annual prom. Please come out and support us, but if you can not make it, we will have a live bidding on the IECHS Facebook page! We can accept cash and checks!
* ¿Estás planeando asistir al título una noche? El comité del baile de graduación de IECHS llevará a cabo una subasta silenciosa esta noche para recaudar fondos para el segundo baile de graduación anual. ¡Venga y apóyenos, pero si no puede asistir, tendremos una licitación en vivo en la página de Facebook de IECHS! ¡Podemos aceptar efectivo y cheques!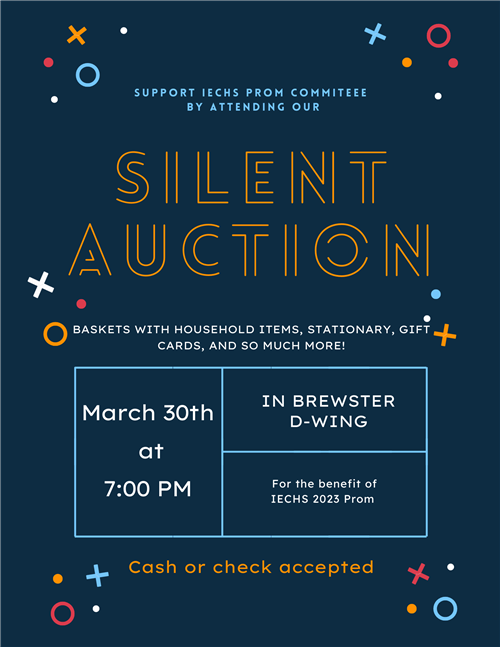 Updated Tardy Policy
*This semester, Innovation has implemented a new tardy policy. Leaders who are tardy will begin receiving consequences after the fifth tardy. The tardy policy can be found on the Innovation website and in the Innovation Student Handbook. We value all instructional time, and tardies cause missed learning time and disruptions to the classroom environment.
*Este semestre, Innovación ha implementado una nueva política de tardanzas. Los líderes que lleguen tarde comenzarán a recibir consecuencias después de la quinta tardanza. La política de tardanzas se puede encontrar en el sitio web de Innovación y en el Manual del Estudiante de Innovación. Valoramos todo el tiempo de instrucción, y las tardanzas causan pérdida de tiempo de aprendizaje e interrupciones en el ambiente del salón de clases.
Senior Yearbook Ads
Senior Parents: IECHS seniors will have the opportunity to have a senior ad placed inside the yearbook. This ad would be designed by you or your student. The prices per size will be $75 for a whole page, $50 for a half a page, and $25 for a quarter of a page. If you are interested in purchasing an ad please contact Ms. Putney.
Padres de estudiantes de último año: los estudiantes de último año de Innovación tendrán la oportunidad de colocar un anuncio de último año dentro del anuario. Este anuncio sería diseñado por usted o su estudiante. Los precios por tamaño serán de $75 por página entera, $50 por media página y $25 por un cuarto de página. Si está interesado en comprar un anuncio, comuníquese con la Sra. Putney.
LEGENDS of the Month
Shanise Scott-Engage Fully-Shanise demonstrates what it means to Engage Fully. She is an active participant in class, always willing to communicate with peers and lead conversations. She communicates well with her teachers and brings life and joy into a classroom. Kudos on being a legend!
Alanna Matthews-Engage Fully-Prepare for success. Alanna has been showing impressive note-taking skills, which led to positive results on her quizzes and tests. She is always ready to listen and learn new things in class. She was always ready to explain her work in class and helps classmates with confusion. Lastly, she proactively created a generalized concept of the content that she shared in class. Very impressive Alanna; keep up the amazing work.
Luca-Engage Fully-Luca engages fully in class each day! I can always count on Luca to be proactive and communicate with classmates as well as instructors.
Shuaib Al Alamari-Navigate Together-Shuaib deserves a huge shout-out for being helpful to his fellow sophomores in their ICTN class. Shuaib went out of his way to help others be successful on an upcoming test. Way to be a positive role model and a LEGEND!
Jorge Macedo-Villeda-Navigate Together-Jorge served as a positive role model by thoughtfully engaging with class activities, producing an exemplar to use with peers, and readily assisting his peers.
Olivia Wells-Listen with Purpose-Olivia exemplifies Navigating Together. She is a team player who keeps commitments and is a positive role model in our building. Kudos on being a Legend!
Hefsi Almendarez Saravia-Deepen Understanding-Hefsi has a thirst for knowledge and always puts her best foot forward with writing and questioning.
Attendance Updates
As a reminder, all Pitt County Schools will follow the district attendance policy this year. Innovation students can miss 10 days per class period. At day 11, students fail the course unless they make up days after school. Students who miss 15 or more days fail the course due to attendance. This policy includes both excused and unexcused absences.
Como recordatorio, todas las escuelas del condado de Pitt seguirán la política de asistencia del distrito este año. Los estudiantes de innovación pueden perder 10 días por período de clase. El día 11, los estudiantes reprueban el curso a menos que recuperen días después de la escuela. Los estudiantes que pierden 15 o más días, suspenden el curso debido a la asistencia. Esta política incluye tanto las ausencias justificadas como las injustificadas.