Return to Headlines
Recruitment for 2023-2024 Has Begun!
We are excited to announce that we are beginning our recruitment for the 2023-2024 school year. If you know an 8th-grade student that might be interested in Innovation Early College, please encourage them and their family to attend one of our parent information sessions.
Nos complace anunciar que estamos comenzando nuestro reclutamiento para el año escolar 2023-2024. Si conoce a un estudiante de octavo grado que podría estar interesado en Innovation Early College, anímelo a él y a su familia a asistir a una de nuestras sesiones de información para padres.
Academic Breakfast
We will host an academic breakfast this Wednesday for students who made all A's for the first marking period. Students should report to Brewster D205 between 9:00 and 9:15 to get breakfast.
Organizaremos un desayuno académico este miércoles para los estudiantes que obtuvieron todas las A en el primer período de calificación. Los estudiantes deben presentarse en Brewster D205 entre las 9:00 y las 9:15 para desayunar.
ECU Classes End: December 5th
East Carolina classes end on December 5th and exams begin on December 7th.
Las clases de Carolina del Este terminan el 5 de diciembre y los exámenes comienzan el 7 de diciembre.
IECHS Exam Schedule
Innovation exams will be held from December 13th through 16th with make-up exam day on December 19th. All students in End of Course (EOC) courses are required to take the state exam. Students who are in courses that have a teacher-made exam will be notified by their teacher in two weeks if they are required to take the final exam.
Los exámenes de innovación se llevarán a cabo del 13 al 16 de diciembre, con el día del examen de recuperación el 19 de diciembre. Todos los estudiantes en los cursos de fin de curso (EOC) deben tomar el examen estatal. Los estudiantes en cursos con un examen hecho por el maestro serán notificados por su maestro en dos semanas si deben tomar el examen final.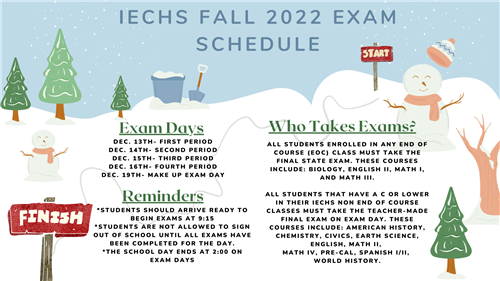 Senior Yearbook Ads
Senior Parents: IECHS seniors will have the opportunity to have a senior ad placed inside the yearbook. This ad would be designed by you or your student. The prices per size will be $75 for a whole page, $50 for a half a page, and $25 for a quarter of a page. If you are interested in purchasing an ad please contact Ms. Putney.
Padres de estudiantes de último año: los estudiantes de último año de Innovación tendrán la oportunidad de colocar un anuncio de último año dentro del anuario. Este anuncio sería diseñado por usted o su estudiante. Los precios por tamaño serán de $75 por página entera, $50 por media página y $25 por un cuarto de página. Si está interesado en comprar un anuncio, comuníquese con la Sra. Putney.
LEGENDS of the Month
DaChanique Baker-Listen with Purpose-She always comes to class prepared and ready to learn. She listens for understanding. Congratulations on being a LEGEND!
Amira Hijazi-Engage Fully-She balances multiple responsibilities and arrives in class ready to engage fully; I am continuously impressed by her diligence, effort, and capability.
Katrina Wu-Endure Through Challenges-Katrina is flexible, understands diversity, knows how to cope with obstacles, and is willing to help others do the same
Cindi Wu-Deepen Understanding-She is very accepting of differing viewpoints and cultures; she shows this trait in SADD at each of our meetings. Cindy shares ideas and allows others to collaborate with our group to create a masterful action plan.
Betsey Birrueta-Endure Through Challenges-Betsey always challenges herself to do her best. She has taken a leadership role and is very successful when communicating with her peers. Thank you for being awesome!
Alyssa Rembisz- Alyssa builds relationships in class and helps others when they are confused. She sets the mood in class and encourages peers so that they can do the task. She takes the initiative to help and explain her work to her peers when needed.
Azariah Tabourn-Engage Fully-Azariah is a master at communicating with teachers through Canvas. She engages in reflection and acknowledges feedback. Azariah, Kudos on being a Legend!
Attendance Updates
As a reminder, all Pitt County Schools will follow the district attendance policy this year. Innovation students can miss 10 days per class period. At day 11, students fail the course unless they make up days after school. Students who miss 15 or more days fail the course due to attendance. This policy includes both excused and unexcused absences.
Como recordatorio, todas las escuelas del condado de Pitt seguirán la política de asistencia del distrito este año. Los estudiantes de innovación pueden perder 10 días por período de clase. El día 11, los estudiantes reprueban el curso a menos que recuperen días después de la escuela. Los estudiantes que pierden 15 o más días, suspenden el curso debido a la asistencia. Esta política incluye tanto las ausencias justificadas como las injustificadas.