Return to Headlines
Senior FAFSA Night: October 5th
On October 5th at 6:00 PM, we will hold a Title One FAFSA Night in collaboration with the East Carolina Financial Aid Office. Seniors and their families are encouraged to come out to learn about FAFSA and financial aid opportunities. There will be an English and a Spanish session. We will provide snacks and child care.
*El 5 de octubre a las 6:00 p.m., realizaremos una Noche de FAFSA del Título Uno en colaboración con la Oficina de Ayuda Financiera de Carolina del Este. Se anima a las personas mayores y sus familias a que vengan a conocer la FAFSA y las oportunidades de ayuda financiera. Habrá una sesión en inglés y una en español. Proporcionaremos refrigerios y cuidado de niños.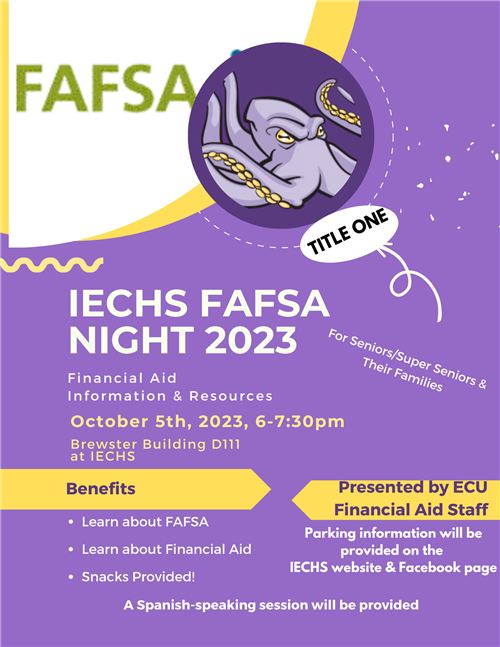 Chipotle Spirit Night: October 4th
*Our student events committee will host a schoolwide spirit night on October 4th at Chipotle on Greenville Blvd. from 5:00-9:00. Come out, get dinner, and support the events committee.
*Nuestro comité de eventos estudiantiles organizará una noche de espíritu escolar para toda la escuela el 4 de octubre en Chipotle en Greenville Blvd. de 5:00 a 9:00. Sal, cena y apoya al comité de eventos.
ECU Fall Break (October 9th & 10th) & IECHS Break (October 9th Only)
* ECU will host fall break on October 9th and 10th. There will be no Innovation classes on Monday, October 9th. However, Innovation will have class on October 10th. Friday, October 13th, will be a full school day, and we will release at 4:00.
* ECU organizará las vacaciones de otoño los días 9 y 10 de octubre. No habrá clases de Innovación el lunes 9 de octubre. Sin embargo, Innovación tendrá clase el 10 de octubre. El viernes 13 de octubre será un día completo de clases y saldremos a las 4:00.
Explore the Future of Sustainability: Germany & Switzerland STEM Tour Parent Information Session: October 17th
* Does your leader want to make a difference while exploring the beauty of Germany and Switzerland. Join us on this unforgettable STEM tour focused on sustainability, where you'll gain knowledge, experience, and memories that will last a lifetime. Don't miss this opportunity to be part of the sustainable future! If you are interested, then there will be a parent information session about the 10-day trip on Tuesday October 17th from 5:30-6:00.
* ¿Quiere su líder marcar la diferencia mientras explora la belleza de Alemania y Suiza? Únase a nosotros en este inolvidable recorrido STEM enfocado en la sustentabilidad, donde adquirirán conocimientos, experiencias y recuerdos que durarán toda la vida. ¡No pierdas esta oportunidad de ser parte de un futuro sostenible! Si su líder está interesado, habrá una sesión de información para padres sobre el viaje de 10 días el martes 17 de octubre, de 5:30 a 6:00 en el salón D110 en Innovation
Parent PowerSchool and Canvas Access Information
*Do you want to know how your leader performs in their Innovation courses? Do you wonder about what assignments they have for classwork or homework? If you are interested in this information, please set up your PowerSchool Parent Portal and request to be a Canvas observer on each of your student's Innovation Courses. Access to these two platforms will help you as a parent know what your leader should be completing in class and for homework and their grades.
*¿Quieres saber cómo se desempeña tu líder en sus cursos de Innovación? ¿Te preguntas qué tareas tienen para el trabajo en clase o para casa? Si está interesado en esta información, configure su portal para padres PowerSchool y solicite ser observador de Canvas en cada uno de los cursos de innovación de su estudiante. El acceso a estas dos plataformas lo ayudará como padre a saber qué debe completar su líder en clase, tareas y calificaciones.
PCS Attendance Policy
*Please be advised that students are required to attend school and cannot miss more than ten days in a course. Once a leader misses 11 or more days, they fail the course unless they attend attendance make-up sessions at the semester's end. According to Pitt County policy, parents will receive a phone call or an attendance letter once students have missed 3, 6, or 9 days, regardless of whether the days are excused or unexcused. This notification is to alert parents about their leader's attendance. Notes for missed days must be brought to school within five days of the absence.
*Tenga en cuenta que los estudiantes deben asistir a la escuela y no pueden faltar más de diez días a un curso. Una vez que un líder falta 11 días o más, suspende el curso a menos que asista a sesiones de recuperación al final del semestre. De acuerdo con la política del condado de Pitt, los padres recibirán una llamada telefónica o una carta de asistencia una vez que los estudiantes hayan faltado 3, 6 o 9 días, independientemente de si los días son justificados o injustificados. Esta notificación es para alertar a los padres sobre la asistencia de su líder. Las notas por los días perdidos deben traerse a la escuela dentro de los cinco días posteriores a la ausencia.