Please help support North Pitt PBIS by visiting the following link. You will need to like, comment and share the Joe Pecheles link. The winning school will receive $1000.00!!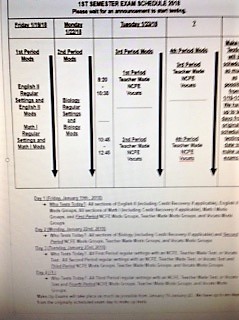 Interested in Library Science? Would you like to be a student library assistant? Library assistants not only learn about the library, they also learn the technology in the library so they can help others know how to use the equipment. If this sounds like something you would like to do, then stop by the library to pick up an application.
January 18th - SNOW DAY! SCHOOL CLOSED
January 19th - EXAMS (English II, Math I, First Period Modifications only)
January 22nd - EXAMS (Biology, Seond Period Modifiations only)
January 23rd - EXAMS (First Period Exams and Second Period Exams that are NOT EOC ( see above)
January 24th - EXAMS (Third Period Exams and Fourth Period Exams that are NOT EOC ( see above)
January 25th - Second Semester Begins
January 29th - Report Cards go Home
February 12th - Curriculum Night 6:00 PM Media Center
February 20th - Upcoming 9th Grade Parent Night 6:30 Wellcome Middle Cafeteria
Be sure to check our PeachJar flyers as well for upcoming events!

This week's students are:
9th grade:
Alexandra Asencio and Jonathan Ruffin
10th grade:
Rachel Culbertson
and Brandon Hardee
11th Grade:
JonMarc Sutton
and Dominic Maurizzio
12th Grade:
Brayan Harris
and Tiana Parrish