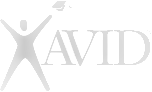 AVID: ADVANCEMENT VIA INDIVIDUAL DETERMINATION

AVID's mission is to close the achievement gap by preparing all students for college readiness and success in a global society.

Regardless of their life circumstances, AVID students overcome obstacles and achieve success. They graduate and attend college at higher rates, but more importantly, they can think critically, collaborate, and set high expectations to confidently conquer the challenges that await them.

The power of AVID is the ability to impact students in the AVID Elective class and all students throughout the campus. AVID can have an effect on the entire school by providing classroom activities, teaching practices, and academic behaviors that can be incorporated into any classroom to improve engagement and success for all students. Teachers can take what they've learned at AVID training back to any classroom to help all students, not just those in AVID, to become more college- and career-ready.
STEAM: Strategies, That, Engage, All Minds!

STEAM is an educational approach to learning that utilizes Strategies That Engage All Minds.

At IECHS we use the UN Sustianable Goals as our starting point for STEAM. Students learn about, engage and problem solve the goals through project based learning utilizing a human centered design thinking process. We use Science, Technology, Engineering, the Arts and Mathematics as access points for guiding student inquiry, dialogue, and critical thinking.

The end results are students who take thoughtful risks, engage in experiential learning, persist in problem-solving, embrace collaboration, and work through the creative process to tackle local and global issues. These are the innovators, educators, leaders, and learners of the 21st century!
Photo: CASEL Wesbite

Social and Emotional Learning (SEL)

Social and emotional learning (SEL) is the process through which children and adults understand and manage emotions, set and achieve positive goals, feel and show empathy for others, establish and maintain positive relationships, and make responsible decisions. See the CASEL website for more information.