Return to Headlines
Congratulations!!!!
*Congratulations to our Battle of the Books team for winning first place in the district competition. The team will compete in Regionals on April 20th.
*Felicitaciones a nuestro equipo de la Batalla de los Libros por ganar el primer lugar en la competencia del distrito. El equipo competirá en Regionales el 20 de abril.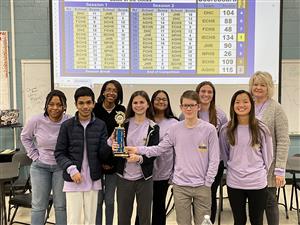 *Congratulations to our Quiz Bowl team for getting an invitation to Quiz Bowl Small Schools National Competition in April.
*Felicitaciones a nuestro equipo de Quiz Bowl por recibir una invitación para la Competencia Nacional de Escuelas Pequeñas de Quiz Bowl en abril.
Grow Local Field Trip: March 30
*All Math 2 students will attend a field trip for Grow Local on March 30th from 10:00-11:30. Field trip forms will be sent home on Monday. Parents, please have these signed and returned by 9:00 on March 30th.
*Todos los estudiantes de Matemáticas 2 asistirán a una excursión para Grow Local el 30 de marzo de 10:00 a 11:30. Los formularios de excursiones se enviarán a casa el lunes. Padres, por favor pídanlos firmados y devueltos antes de las 9:00 el 30 de marzo.
Professional Learning Day: March 31
*March 31st is a professional learning day, so there are no Innovation classes. College courses will still be held on Friday.
*El 31 de marzo es un día de aprendizaje profesional, por lo que no hay clases de Innovación. Los cursos universitarios aún se llevarán a cabo el viernes.
Glow in the Dark Dance: March 23, 2023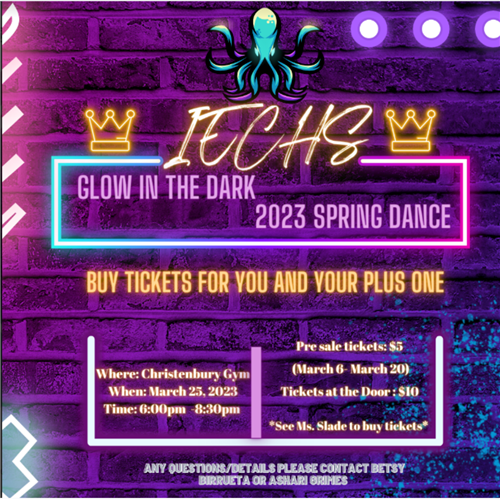 Title One Night: March 30th
*We will host a Title One Parent Night this Thursday from 6:00-7:30. We will have sessions to discuss the Innovation four or five-year graduation plans; showcase our student's hard work in Science; a Senior Chit Chat with Ms. Putney to assist with the FAFSA, learn about scholarships and college applications; and a session with Innovation parents to ask questions or share thoughts and ideas. We will also have our Prom Committee Silent Auction during the event. We hope to see you there!
*Organizaremos una Noche de Padres de Título I este jueves de 6:00 a 7:30. Tendremos sesiones para discutir los planes de graduación de cuatro o cinco años de Innovación; mostrar el arduo trabajo de nuestros estudiantes en Ciencias; una charla para estudiantes de último año con la Sra. Putney para ayudar con la FAFSA, obtener información sobre becas y solicitudes universitarias; y una sesión con padres de Innovación para hacer preguntas o compartir pensamientos e ideas. También tendremos nuestra Subasta Silenciosa del Comité de Graduación durante el evento. ¡Esperamos verte ahí!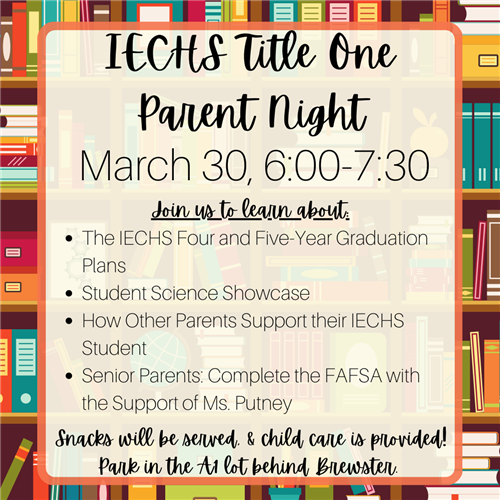 Prom Silent Auction: March 30, 2023
* Are you planning on attending the title one night? The IECHS prom committee will be holding a silent auction this night in order to raise funds for the second annual prom. Please come out and support us, but if you can not make it, we will have a live bidding on the IECHS Facebook page! We can accept cash and checks!
* ¿Estás planeando asistir al título una noche? El comité del baile de graduación de IECHS llevará a cabo una subasta silenciosa esta noche para recaudar fondos para el segundo baile de graduación anual. ¡Venga y apóyenos, pero si no puede asistir, tendremos una licitación en vivo en la página de Facebook de IECHS! ¡Podemos aceptar efectivo y cheques!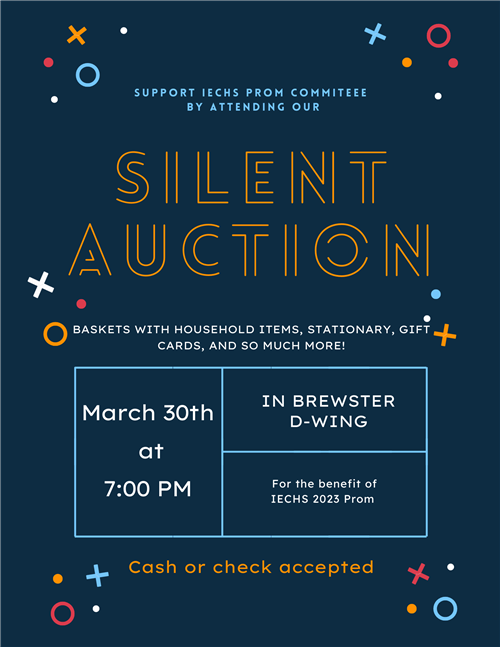 Updated Tardy Policy
*This semester, Innovation has implemented a new tardy policy. Leaders who are tardy will begin receiving consequences after the fifth tardy. The tardy policy can be found on the Innovation website and in the Innovation Student Handbook. We value all instructional time, and tardies cause missed learning time and disruptions to the classroom environment.
*Este semestre, Innovación ha implementado una nueva política de tardanzas. Los líderes que lleguen tarde comenzarán a recibir consecuencias después de la quinta tardanza. La política de tardanzas se puede encontrar en el sitio web de Innovación y en el Manual del Estudiante de Innovación. Valoramos todo el tiempo de instrucción, y las tardanzas causan pérdida de tiempo de aprendizaje e interrupciones en el ambiente del salón de clases.
Senior Yearbook Ads
Senior Parents: Senior Ads for the Yearbook are being sold until April 6. There will be no Ads sold after April 6. This is so we will meet our publication deadline. Full page - $75.00, half page - $50.00 and fourth of a page - $25.00. Ads should be print ready in jpeg format.
Padres de estudiantes de último año: los estudiantes de último año de Innovación tendrán la oportunidad de colocar un anuncio de último año dentro del anuario. Este anuncio sería diseñado por usted o su estudiante. Los precios por tamaño serán de $75 por página entera, $50 por media página y $25 por un cuarto de página. Si está interesado en comprar un anuncio, comuníquese con la Sra. Putney.
LEGENDS of the Month
Shanise Scott-Engage Fully-Shanise demonstrates what it means to Engage Fully. She is an active participant in class, always willing to communicate with peers and lead conversations. She communicates well with her teachers and brings life and joy into a classroom. Kudos on being a legend!
Alanna Matthews-Engage Fully-Prepare for success. Alanna has been showing impressive note-taking skills, which led to positive results on her quizzes and tests. She is always ready to listen and learn new things in class. She was always ready to explain her work in class and helps classmates with confusion. Lastly, she proactively created a generalized concept of the content that she shared in class. Very impressive Alanna; keep up the amazing work.
Luca-Engage Fully-Luca engages fully in class each day! I can always count on Luca to be proactive and communicate with classmates as well as instructors.
Shuaib Al Alamari-Navigate Together-Shuaib deserves a huge shout-out for being helpful to his fellow sophomores in their ICTN class. Shuaib went out of his way to help others be successful on an upcoming test. Way to be a positive role model and a LEGEND!
Jorge Macedo-Villeda-Navigate Together-Jorge served as a positive role model by thoughtfully engaging with class activities, producing an exemplar to use with peers, and readily assisting his peers.
Olivia Wells-Listen with Purpose-Olivia exemplifies Navigating Together. She is a team player who keeps commitments and is a positive role model in our building. Kudos on being a Legend!
Hefsi Almendarez Saravia-Deepen Understanding-Hefsi has a thirst for knowledge and always puts her best foot forward with writing and questioning.
Taniyah Taylor-Montague-Engage Fully-Taniyah always comes to class prepared and ready to learn. She does a good job communicating with her peers and instructors. She is proactive, and asks questions when she has them! Great job on being a Legend!
Angelica Shireman-Listen with Purpose-Angelica is always prepared for math class. She goes above and beyond on all of her assignments, and she asks questions when she has them. Thank you for being a great math student and a Legend!
Ke'veon Parker-Engage Fully-Ke'veon always puts his best effort in all of his assignments. He is a hard worker that is always engaged fully in class. He is an excellent role model for other students. Thank you for being a legend.
Tavin Bailey-Endure Through Challenges-Tavin is always putting in 110% effort during Biology class. I appreciate his extra drive and desire to know and understand the material.
Brandon Ramos-Endure Through Challenges-Brandon is respectful of multiple viewpoints no matter the students he works with. I can count on Brandon to endure through challenges with content, collaborative groups, and still maintain his desire to learn.
Michael Raye-Engage Fully-Michael actively participates and often leads by example.
Azariah Tabourn-Navigate Together-Keep personal and shared space clean. Azariah always has the initiative to make sure chairs are arranged in class after using the room. Have her notes and things ready every before class starts, always ready to try working on problems in class.
Montana Cook-Deepen Understanding-Montana constantly perseveres and excels in all the challenges she faces. Montana is a true legend.
Attendance Updates
As a reminder, all Pitt County Schools will follow the district attendance policy this year. Innovation students can miss 10 days per class period. At day 11, students fail the course unless they make up days after school. Students who miss 15 or more days fail the course due to attendance. This policy includes both excused and unexcused absences.
Como recordatorio, todas las escuelas del condado de Pitt seguirán la política de asistencia del distrito este año. Los estudiantes de innovación pueden perder 10 días por período de clase. El día 11, los estudiantes reprueban el curso a menos que recuperen días después de la escuela. Los estudiantes que pierden 15 o más días, suspenden el curso debido a la asistencia. Esta política incluye tanto las ausencias justificadas como las injustificadas.