Return to Headlines
PCS Climate Survey
IECHS wants to hear your voice. Please take a few minutes to complete the PCS Parent Climate Survey. We will use the data from the survey to make improvements at IECHS!
IECHS quiere escuchar su voz. Tómese unos minutos 
para completar la Encuesta sobre el clima de los 
padres de PCS. ¡Usaremos los datos de la encuesta
 para hacer mejoras en IECHS!
PCS Parent Survey - Spanish Version
IECHS Registration 2023-2024 School Year
*We will begin the registration process for the 2023-2024 school year this week. Over the course of the next few weeks, leaders will bring home their course registration forms. Please review this forms with your child, sign them and have them returned to your child's homeroom teacher.
*Comenzaremos el proceso de inscripción para el año escolar 2023-2024 esta semana. En el transcurso de las próximas semanas, los líderes llevarán a casa sus formularios de registro del curso. Revise estos formularios con su hijo, fírmelos y pídales que se los devuelvan al maestro de su hijo.
Updated Friday Schedule for Spring 2023
* Due to ongoing transportation issues with Friday dismissal, we are changing our Friday dismissal time for the second semester. Effective Friday, January 6, 2023, school hours every day will be 9 am to 4 pm. We will no longer have a 2 pm dismissal on Fridays. Innovation classes will run like they do Monday through Thursday, and we will offer REC Time on Fridays. This change should not impact students' college courses. Additionally, we will add a professional learning day for staff on the last Friday of January, February, March, and April. Students will not attend school on January 27th, February 24th, March 31st, or April 28th. We apologize for any inconvenience this may cause.
* Debido a problemas continuos de transporte con la salida del viernes, cambiaremos nuestra hora de salida del viernes para el segundo semestre. A partir del viernes 6 de enero de 2023, el horario escolar todos los días será de 9 am a 4 pm. Ya no tendremos una salida a las 2 pm los viernes. Las clases de innovación se llevarán a cabo como lo hacen de lunes a jueves, y ofreceremos REC Time los viernes. Este cambio no debería afectar los cursos universitarios de los estudiantes. Además, agregaremos un día de aprendizaje profesional para el personal el último viernes de enero, febrero, marzo y abril. Los estudiantes no asistirán a la escuela el 27 de enero, 24 de febrero, 31 de marzo o 28 de abril. Pedimos disculpas por cualquier inconveniente que esto pueda causar.
Updated Tardy Policy
*This semester, Innovation has implemented a new tardy policy. Leaders who are tardy will begin receiving consequences after the fifth tardy. The tardy policy can be found on the Innovation website and in the Innovation Student Handbook. We value all instructional time, and tardies cause missed learning time and disruptions to the classroom environment.
*Este semestre, Innovación ha implementado una nueva política de tardanzas. Los líderes que lleguen tarde comenzarán a recibir consecuencias después de la quinta tardanza. La política de tardanzas se puede encontrar en el sitio web de Innovación y en el Manual del Estudiante de Innovación. Valoramos todo el tiempo de instrucción, y las tardanzas causan pérdida de tiempo de aprendizaje e interrupciones en el ambiente del salón de clases.
School Counselor Week
*The week of February 6th is National School Counselors Week. Please take some time during that week to thank Ms. Putney for all she does for our school. We love having her as our counselor, so let us show her some love!
*La semana del 6 de febrero es la Semana Nacional de los Consejeros Escolares. Tómese un tiempo durante esa semana para agradecer a la Sra. Putney por todo lo que hace por nuestra escuela. Nos encanta tenerla como nuestra consejera, ¡así que mostrémosle un poco de amor!
February 10: No Innovation Classes for Students
*February 10th is a teacher workday for Innovation. Leaders in ECU courses will be required to attend their courses. Leaders who need transportation to ECU need to let Mr. Grant know, so he can secure a bus for them.
*El 10 de febrero es jornada docente por la Innovación. Se requerirá que los líderes en los cursos de ECU asistan a sus cursos. Los líderes que necesitan transporte a ECU deben informar al Sr. Grant para que pueda conseguirles un autobús.
Prom Fundraiser: Texas Roadhouse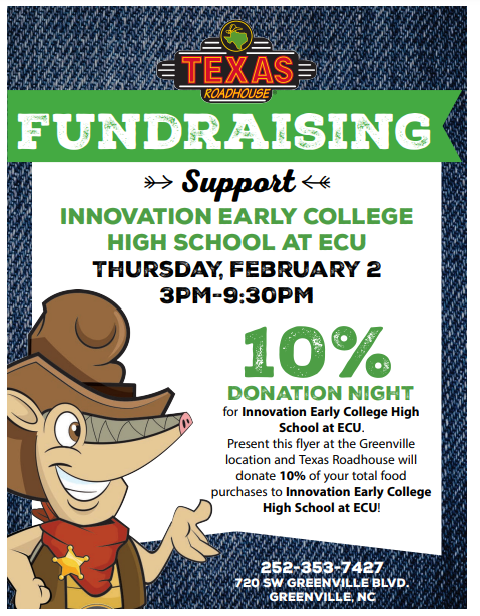 Senior Yearbook Ads
Senior Parents: IECHS seniors will have the opportunity to have a senior ad placed inside the yearbook. This ad would be designed by you or your student. The prices per size will be $75 for a whole page, $50 for a half a page, and $25 for a quarter of a page. If you are interested in purchasing an ad please contact Ms. Putney.
Padres de estudiantes de último año: los estudiantes de último año de Innovación tendrán la oportunidad de colocar un anuncio de último año dentro del anuario. Este anuncio sería diseñado por usted o su estudiante. Los precios por tamaño serán de $75 por página entera, $50 por media página y $25 por un cuarto de página. Si está interesado en comprar un anuncio, comuníquese con la Sra. Putney.
LEGENDS of the Month
Mason Miller-Engage Fully-Student was willing to participate in helping get books prepared for students for ECU classes.
Valeria Ramirez-Villarreal-Navigate Together-Valeria found a three-ring binder she was going to use herself, but then giving it to someone else that needed one. Her kind, empathetic, and nurturing sprit was refreshing to witness.
Isabella Ivory-Engage Fully-Isabella does an excellent job engaging in class and answering questions. I appreciate her eagerness to learn and participate.
Saige Whitaker-Engage Fully-Saige is engaging fully in class and is being proactive and communicating her needs and concerns effectively.
Mona Ismael-Deepen Understanding-Mona exemplifies "Deepen Understanding". She asks questions to seek clarity, is willing to take academic risks, takes initiative, and exceeds expectations. Mona has shown that she is a leader and an asset to her classmates. Kudos on being a Legend!
Har'Mahni Thomas-Engage Fully-Har'Mahni is a joy to have in class. She is a very positive person and she loves learning. She actively participates in class and helps others, when needed. She is a great role model for underclassmen. She is proactive and communicate with her teachers effectively.
Attendance Updates
As a reminder, all Pitt County Schools will follow the district attendance policy this year. Innovation students can miss 10 days per class period. At day 11, students fail the course unless they make up days after school. Students who miss 15 or more days fail the course due to attendance. This policy includes both excused and unexcused absences.
Como recordatorio, todas las escuelas del condado de Pitt seguirán la política de asistencia del distrito este año. Los estudiantes de innovación pueden perder 10 días por período de clase. El día 11, los estudiantes reprueban el curso a menos que recuperen días después de la escuela. Los estudiantes que pierden 15 o más días, suspenden el curso debido a la asistencia. Esta política incluye tanto las ausencias justificadas como las injustificadas.