Return to Headlines
Fall 2023 Semester Exams
*Students who have a C or lower in their Innovation courses will be required to take their course's teacher-made cumulative final on December 11th. December 11th will be a regular student day with students getting out of school at 4:00.
*Fall semester end-of-course exams begin on December 12th. During the exam, scheduled students will be released at 2:00. There will be no early releases during exam days. We will have all English 2 end of Course exams on December 12th, second-period end-of-course exams will be on December 13th, third-period end-of-course exams will be on December 14th, fourth-period end-of-course exams will be on December 15th, and makeup exams will be December 18th.
*Los estudiantes que obtengan una C o menos en sus cursos de Innovación deberán tomar el examen final acumulativo elaborado por el maestro de su curso el 11 de diciembre. El 11 de diciembre será un día estudiantil normal y los estudiantes saldrán de la escuela a las 4:00.
*Los exámenes de fin de curso del semestre de otoño comienzan el 12 de diciembre. Durante el examen, los estudiantes programados saldrán a las 2:00. No habrá salidas anticipadas durante los días de exámenes. Tendremos todos los exámenes de fin de curso de Inglés 2 el 12 de diciembre, los exámenes de fin de curso del segundo periodo serán el 13 de diciembre, los exámenes de fin de curso del tercer periodo serán el 14 de diciembre, el final del cuarto periodo Los exámenes de curso serán el 15 de diciembre y los exámenes de recuperación serán el 18 de diciembre.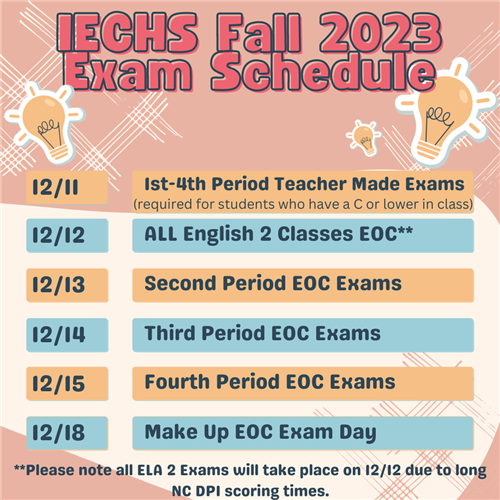 Upcoming Events!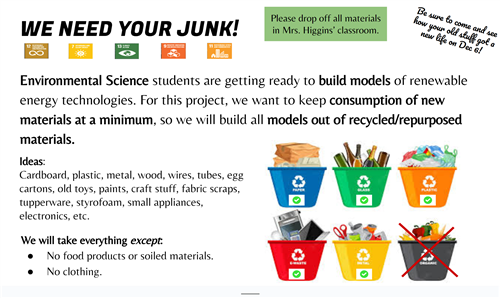 We hope you can join us for our last PTSO meeting of 2023 on December 12th @ 6pm. We are encouraging everyone to bring 1 dozen cookies of their choice (homemade or store bought is fine) and we will provide the cocoa. If you can not bring cookies, that is OK, we still want you to attend. Please review the available slots below and click here to sign up.
Parent PowerSchool and Canvas Access Information
*Do you want to know how your leader performs in their Innovation courses? Do you wonder about what assignments they have for classwork or homework? If you are interested in this information, please set up your PowerSchool Parent Portal and request to be a Canvas observer on each of your student's Innovation Courses. Access to these two platforms will help you as a parent know what your leader should be completing in class and for homework and their grades.
*¿Quieres saber cómo se desempeña tu líder en sus cursos de Innovación? ¿Te preguntas qué tareas tienen para el trabajo en clase o para casa? Si está interesado en esta información, configure su portal para padres PowerSchool y solicite ser observador de Canvas en cada uno de los cursos de innovación de su estudiante. El acceso a estas dos plataformas lo ayudará como padre a saber qué debe completar su líder en clase, tareas y calificaciones.
PCS Attendance Policy
*Please be advised that students are required to attend school and cannot miss more than ten days in a course. Once a leader misses 11 or more days, they fail the course unless they attend attendance make-up sessions at the semester's end. According to Pitt County policy, parents will receive a phone call or an attendance letter once students have missed 3, 6, or 9 days, regardless of whether the days are excused or unexcused. This notification is to alert parents about their leader's attendance. Notes for missed days must be brought to school within five days of the absence.
*Tenga en cuenta que los estudiantes deben asistir a la escuela y no pueden faltar más de diez días a un curso. Una vez que un líder falta 11 días o más, suspende el curso a menos que asista a sesiones de recuperación al final del semestre. De acuerdo con la política del condado de Pitt, los padres recibirán una llamada telefónica o una carta de asistencia una vez que los estudiantes hayan faltado 3, 6 o 9 días, independientemente de si los días son justificados o injustificados. Esta notificación es para alertar a los padres sobre la asistencia de su líder. Las notas por los días perdidos deben traerse a la escuela dentro de los cinco días posteriores a la ausencia.