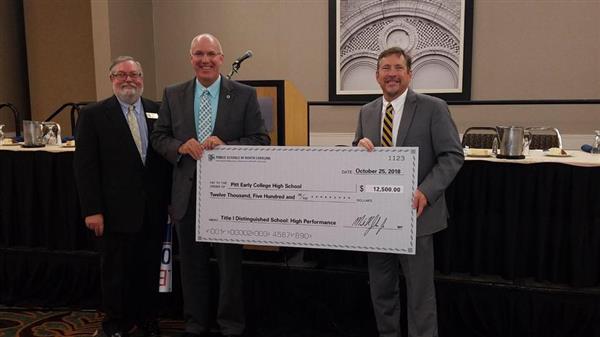 Phone:
Email:
Degrees and Certifications:
About our Title 1 National Distinguished School Award

From the PCS Announcement:

Please join us in congratulating Pitt County Schools Early College High School, which earned top honors on Thursday and was named a North Carolina National Distinguished Title I School. PCSECHS edged out 15 finalists to earn the recognition at a ceremony held in Greensboro, NC.

In his presentation to the winners, North Carolina Department of Public Instruction Director of Federal Program Monitoring and Support, Dr. Michael Wells, stated, "The committee noted that what came to mind when (visiting) this school is a large family. Everyone they spoke with mentioned the connection between the school staff, students, families and all stakeholders. They also have a great relationship with (Pitt) Community College, which allows students to expand beyond traditional high school."

Each year, the National Title I Distinguished Schools program recognizes exemplary Title I Schools that hold students to high standards and demonstrate exemplary school effectiveness in teaching and learning based on state curriculum, use of research-based instructional strategies, opportunities provided for all students to achieve, established parent/family/community partnerships, implementation of sustained research-based professional development, and innovation and modeling for other schools.

Two North Carolina Schools are recognized each year at the national level in the categories of Sustained High-Performance and Sustained High Growth. PCSECHS was awarded recognition in the Sustained High Performance category. Schools in this category must show a high (at least 80%) level of student proficiency in reading and mathematics and make Adequate Yearly Progress (AYP) for the most recent two years.

Receiving the award on behalf of PCSECHS, Principal Wynn Whittington says he is humbled, but not surprised. "This is a huge honor," Whittington states. "It's a testament to the hard work of staff and students and the whole community buy-in of changing students' lives together. It's an honor to work with such a great group of professional educators, students, and families. This is a family effort. Congratulations to our whole school on a job well done!"

Superintendent, Dr. Ethan Lenker and Director of Federal Programs, Ms. Lavette Ford attended the ceremony in Greensboro to support Pitt County Schools Early College High School.

"I'm extremely excited and proud of the great things happening at PCS Early College, " Ms. Ford says and notes that PCSECHS is the only PCS school to earn national Title I recognition.

"We are obviously thrilled and proud of Mr. Whittington and the entire staff and students at the (PCS) Early College High School," adds Dr. Lenker. "This is quite an accomplishment, and it goes to show the value of creating our Early Colleges and the opportunities they give students."

In addition to the recognition, PCSECHS also receives a monetary award in the amount of $12,500. PCSECHS will go on to be recognized at the National Title I Convention in Kansas City in February.

Congratulations!