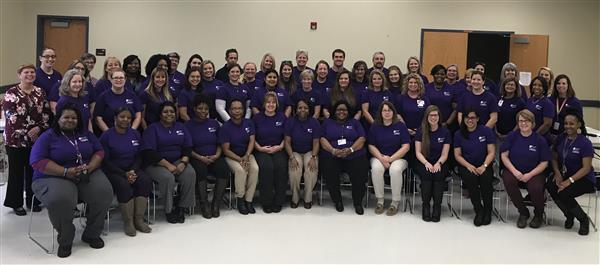 Exceptional Children's Department

The Exceptional Children's Department Program of services and staff commits to providing specially designed instruction with fidelity and evidenced based practices to students with disabilities with IEP's enrolled in Pitt County Schools in the least restrictive educational environment.
Announcements
Years of Service Recognition

The Exceptional Children's Department recognizes Lesa Jackson who is one of the Occupational Course of Study teachers at JH Rose High School. Lesa has worked 29 years in public education at various schools and in several positions. She loves her students and always gets the most out of them. Her passion and energy is infectious. Thank you Ms. Jackson for all you do.

Congratulations, Julie Brickhouse (Wahl-Coates Elementary School) on being named the Pitt County Farm Bureau-Pitt County Schools Teacher of the Year!!

PreK Garden at Sadie Saulter

Christle McKinney, teacher at Sadie Saulter Educational Center, was awarded a mini grant to work on STEM skills with her preschoolers. Check out their awesome garden!

Years of Service

Recognizing Ms. Julie Brickhouse and Ms. Patricia Page for their combined 59 years of teaching. Ms. Brickhouse and Ms. Page have been together for 25 years and they make one awesome team!

Education Connection

Catch our Director of Exceptional Children on Five Prime Group's radio show with co-host Dr. Travis Lewis.

2017 Teachers of the Year

Several of our Exceptional Children teachers were selected as Teacher of the Year at their schools! Congratulations to Julie Brickhouse(Wahl-Coates Elementary), Alison Daniel (Wintergreen Primary) and Christy Reynolds (Wintergreen Intermediate)!

2017 Teacher of Excellence

Congratulations to Laura Hendrix on being the 2017 Exceptional Children Teacher of Excellence! She will be honored at the Conference on Exceptional Children in November. Way to go Laura!

Differently Abled Tutoring

Click link for information on free tutoring provided by Greenville Parks and Recreation and ECU
QUICK LINKS
Parent Rights and Responsibilities

Parent Rights and Responsibilities (Spanish)
Exceptional Student Spotlight
W​e would like to take a moment to congratulate Malachi Higgs. Mr. Higgs placed first at the Science Olympiad Competition in the Hovercraft event.Mr. Higgs is an 8th grader at E. B. Aycock and was a valuable member of the team. Congratulations, again, for your hard work.
Last Modified on August 9, 2018